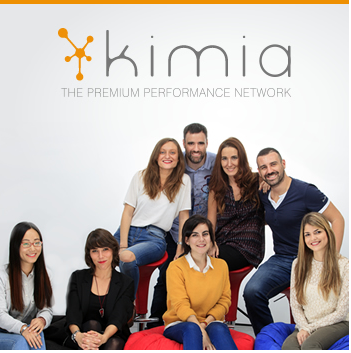 One out of every 30 affiliates is a millionaire
Kimia is what´s traditionally known as an "ad network" that specializes in monetizing mobile web, desktop and app traffic.  Bottom line – We help affiliates and webmasters maximize revenue from their online properties.
How is this done? In simple industry terms, we have over 1000 active advertisers worldwide, which means we are able to ensure 100% fill rate for all your traffic. Money from every impression.
However, different from a traditional ad network, we don't base our success solely on our network of advertisers.  There are many variables to consider when helping a webmaster make the most of his traffic, and that's where Kimia has its strong point.  We work to create tools in-house that are optimized to your needs.
When any affiliate want to optimize their mobile traffic, one of the most important factors in maximizing revenue is the correct detection of mobile carrier versus wifi traffic.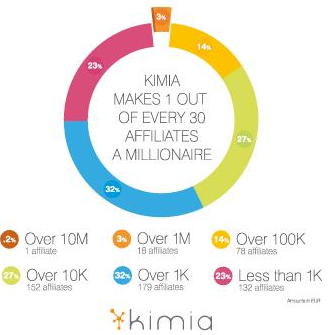 Kimia works with a leading global technology partner capable of extracting the largest and most accurate information about a user's network directly from their IP. We then enrich that information identifying ítems such as proxies, NAT, bots, etc,  which means getting your traffic to the highest converting and best payout offers every time, and ultimately more money in your pockets.
At Kimia, we want truly believe that there's a win-win relationship with our partners. Therefore, we even offer you the freedom to utilize our expert IP filtering system to send certain traffic segments to offers/platforms outside of Kimia, if you wish. Send Kimia all of your mobile traffic, use our detection and only monetize what is profitable with us. We then can redirect to any other 3rd party advertising platform or send you the traffic back.
This optimum segmentation bases its success on more aspects than a detailed IP filtering, it´s also supported by high monetizing ad formats that go beyond traditional display banners, redirect and interstitial. Kimia also offers: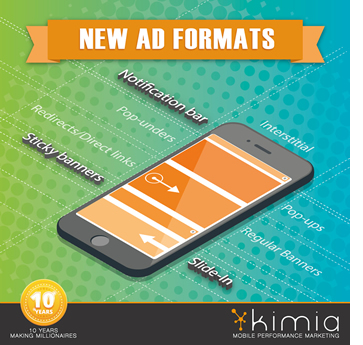 Sticky banners such as Slide-in, Notification bar, In-video, Notification push-up, Leading app.
When delivering these ad formats there´s a variable to consider, and that's the speed with which they are loaded to the user, this will inevitably affect the lead generation and therefore the sales = revenue.
We live in the society of "right now", no waiting. To provide this immediacy to users and partners, Kimia has integrated with one of the top CDN companies, to provide faster content delivery. A CDN is a content delivery network that owns "points of presence" (pops) worldwide, these in turn deliver content based on the geo location of the user. Our CDN partner that worldwide coverage and strategically positioned pops that lead to a swift delivery of images and products.
Ok, so now you might have a better idea of what you should look for in a "non-traditional" ad network such as Kimia… However, let´s get back to basics, what if you really don´t have the time to investigate or consider these variables per partners.
Let us make it simple for you, a network should offer you:
– Real time stats
– Timely payments (In our case we have a minimum payment of $100 and we will generate an auto-invoice, meaning you don't  have to move a finger. Let us do the burocrate work.)
– Easy extra revenue through referral programs. This means, if you enjoy working with Kimia and you refer a friend we will pay you 5% on top of your friends revenue.
– Access to industry/market knowledge – In addition to these basic conditions Kimia also offers an instant chat with an account manager whenever you are logged into the platform. If you are not one to chat, we also provide a dynamic, video tutorial, "Kimia Webmaster Campus", where you will find all the knowledge you need to make the most out of the platform. We also have a blog with advice and articles based on our partners most frequently asked questions: "Mind The ROI" http://mindtheroi.com/

Thanks to our advanced inhouse tech tools and our premium account management our top 10 publishers each get paid more than $ 100.000 per month and our top 25 publishers each get paid more than $ 1.000 per day
Consider Kimia an additional source of revenue to your current monetization platforms. Your ROI is our business. This is a partnership, and we want you to make the most profit possible.
Incoming search terms:
happy propose day shayari in Hindi