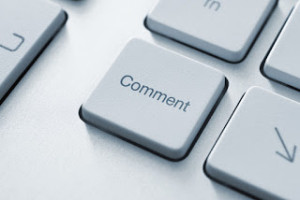 It is already know that blogs are helpful marketing tools to improve your company's marketing strategies. Aside from having the voice on-line, you also increase your on-line presence through social media shares.
Many blog administrators focus on improving their contents. Some even hire writing services to write for them, while others allow quality guest posts. They make sure that all articles are original and well-written to avoid penalty from Google. But most of these administrators often overlook simple things that actually helps improve their blogs. This is the comments section. But how important this section is?
Importance of Comments Section
Improves On-page Activity: On page activity is an important signal for a quality website. So increasing the number of readers who leave comments, improves the quality of your blog.
Attracts Readers: Having an active comments section increase traffic. They notice the amount of people discussing about your blog so they get curious and read. They also join in the conversation to share their opinions as well.
Increases Social Shares: People who find your articles interesting shares your posts. They 

participate

 in healthy arguments and then share it with people who share the same sentiments as them.
Fosters Like-minded Community: Blogs are not only a tool to share the voice of the company or an 

individual

. It is also a catalyst to create communities that has the same interests and ideas. It all begins in discussions and communications in comments section.
Makes You Closer to Readers: With an engaging comment section, you get closer to the people who reads your work. You get to know them and even join in the conversations. You also get to know what topic that interest them the most.
Plug-ins to Improve Blogs
To encourage people, administrators should also focus on keeping their comments section engaging. A few, simple plug-ins can actually do the trick:
Akismet: You can never attract readers if you have lots of spam on your comment section. Moderating all of them is extremely stressful, so make it easier with Akismet. This a hosted web service that automatically separate the spam from the ham.
Discuss: Some readers are turned off to leave a comment because they had 

to register

 an account. With Discuss, they can join the conversation by logging in on their e-mail or social media account. They can even monitor the replies to their feedbacks.
Star Rating: Some readers don't bother to leave even the simplest "

thank you

." But you can encourage them to at least rate comments. This is a good alternative to increase page activity.
@Reply: "@" function of Twitter is actually helpful in conversations. Even Facebook, adapted it, so why don't you? It makes long discussions and multiple replies easy to follow.
Tango Smiley Extension: Too lazy to write or even rate? How about make your readers leave a smiley. Choosing from various cute smiley is fun.
Image Comment: If words can't explain the emotions of your readers. Make them leave images. This plug-in allows posting of images and gif's. This adds style to your blog and attract other readers.
Comment section is very important. You do not have to disable it to avoid hasty comments or constructive criticisms. Comments actually foster arguments and discussions and with the help of these plug-ins you keep all these feedbacks healthy, while also motivate readers to engage.
Also SEE- Know Why your Blog Posts Were not Shared and Commented?