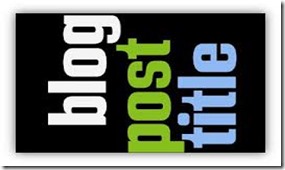 Blog Post Title is one of the main thing to take your blog to the next level through Search engines. Choosing and writing crispy post titles helps you a lot to attract huge targeted visitors. Your blog post title determines the CTR of your blog post, and a bad title will ensure you will not get enough traffic etc. Now today I will tell you some great 5 ways to write good blog post title for higher visibility in SERPS. Please read it carefully and implement in your blog posts for higher rankings!
Top 5 Tips for Writing Blog Post Title for High Traffic:
1. Your Blog Post Title Must be Reader and SEO Friendly
Its always good to write Post for the readers but it should be SEO friendly also. Maintain a balance between them and lets check an example below-
Post Title- Best WordPress Themes 2014- 10 Reasons to Buy it
Explanation: Here SEO part is Best WordPress Themes 2013 and Readers part is 10 Reasons to buy it.
2. It should be long and unique one
Always go for long tail keywords selection in your blog post and its competition is less in search engines i.e unique. You can also use Google Keywords tool and or any other for some great help. Note- Short title has very less content to describe summary of the post.
3. Use multiple keywords in your Post Title
Most of the bloggers focus on the single keyword in the title of their blog posts but only few advanced bloggers follow the technique of using multiple keywords in the post title. It will increase your chances of being tracked by more than 2-3 keywords etc. Lets check an example:
Post Title: Importance of Social Media in SEO and Blog Traffic
Explanation- Here 3 main Keywords are used as given below-
1. Importance of Social media in SEO
2. Importance of Social Media in Blog traffic
3. Importance of Social Media
4. Always Try to limit it at least of 66 words mainly
Google has a strategy to show only post title up to 66 words that's why Its good for us to write titles as 66 words only for better impact. This is an great way to show full post title in SERPS.

5. Know What the whole world is writing i.e Trending or Latest News
Always write what is revolving around the globe, I mean Trending topics. Search Engines love Latest News and it will provide you more traffic in less time. You can write something latest on the topic like Social Media, Sports and Technology.
6. Post Title should not contain unnecessary small Keywords like in, of etc.
Yes its true, ignore small tiny keywords like in, of, that etc. which makes no sense and making your post title so long. The short and powerful is your title, more you practice.
Finally Its up to you! Have a great day and don't forgot to subscribe to your blog. Bye!!!