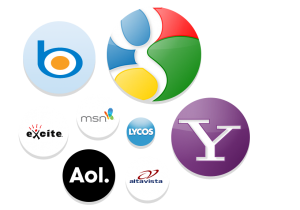 Are you looking for submission of your website or blog to multiple search engines at once without doing it manually, then you are at very right place as today I am going to tell you How? Sending Sites or Pings to Popular Search Engines like Google, Bing, AOL etc is must but what about other 450+ search engines, well you cant do it manually as we need some automatic services/sites to do this. Therefore I bring some websites to look up and try for submitting your site to multiple search engines at once. This will definitely boost and increase your Website traffic and SEO as well. Enjoy…
Also note: Do not submit your site or site sitemap to all these search engines at once by using multiple tools online, go slowly otherwise you will be banned by search engine result pages etc. I mean use any 1-2 tool at a day for site submission.
Popular Search Engines- Top List 2014!
Jayde
Scrub the Web
ExactSeek
Fyber Search
InfoTiger
WalHello
EntireWeb
WebSquash
Anoox
GhetoSearch
Feedplex
Amfibi
Active Search Results
SurfSafely
WhatUSeek
Amidalla
Secret Search Engine Labs
Acoon
Boitho
MyaHint
SearchSight
Claymont
All the Web
Alta Vista
AOL
Beauco Up!
Clusty
CurryGuide
Dogpile
Excite
Family Friendly Search
Fazzle
Find Info
Galaxy
GigaBlast
Go.com
Hotbot
IceRocket
Info.com
InfoGrid
InfoSpace
Internet Sleuth
Ixquick
iZito
Kanoodle
Kartoo
Lycos
Mamma
MetaCrawler
MetaEureka
Netscape
One Page MultiSearch Engines
Proteus
Scrub the Web
Search Hippo
Search the Web
Search.com
SurfWax
Teoma
Turbo10
WebCrawler
ZapMeta
Highway 61
37.com
One Seek
MetaSpider
MegaGo
How to Submit Site to Multiple Search Engines?
1. First of all visit Submit Express and there you can see the box as given below!
2. Now enter your blog url, email address, real name, phone number and Specific Country.
3. Once done, Enter the captcha and click Submit Now.
4. Hence wait some time for the process to continue and complete! Done.
Bonus Tool: Go to Google Ping for submission of your website to all Google BlogSearch at once. Here you can also add your RSS feeds to submit. That's it! Get go Now and dont forget to like Us on Facebook!