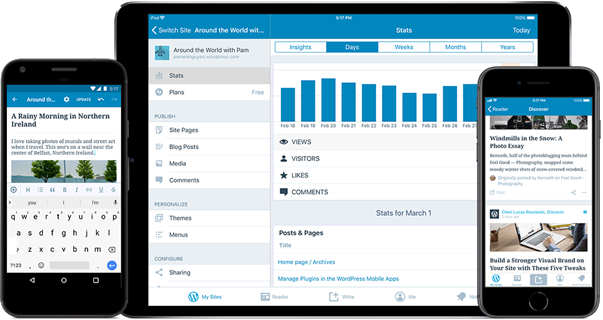 If you are thinking of starting your own blog and want to know which is the best platform to begin with, then this article is just for you. But before you start, let's try to understand what WordPress is and how it works.
Well, WordPress is a free blogging site where you can submit and upload your blogs and articles and let it be seen by the public. Please note that WordPress doesn't allow any adult content and is not for gambling or pharmacy related contents either. You can either choose to buy a domain name or stick to a free one. Here's Bigrock coupons for you, just in case if you wish to buy a domain name for your site.
To begin with, people often start blogging out of hobby, they share their experiences, contents which might help the readers, and so on, but then soon they take a shift and start their own self-hosted domain option to earn money as well. Now, let's talk about the nitty-gritty of WordPress.
How to start free blogs on WordPress.com?
First things first, how do anyone start publishing their blogs on WordPress.com? Well, WordPress is not a rocket science. Visit WordPress.com and click on the start option, it will help you to understand how it works. Following are the steps:
First, you will be prompt to choose a homepage layout for your site
Second, you will be asked to choose a theme
For the third step, you will have to choose a domain name for your site (you can choose your name or something creative)
Buy a plan that suits you
After all the four steps are done, go ahead and create your account
Now, let's talk about each step one by one.
Step 1: How to choose the layout for the homepage
First, you will have to choose a layout for your homepage. The layout can have "A list of my latest post", then "a grid of my latest posts", "welcome page for my site", and "an online store."
If you are a first timer and your focus in on producing quality blog contents then our suggestion would be to go ahead with "A list of my latest post". If you are a photographer and want to showcase your photography skills, then pick the grid layout, simultaneously, if you are a businessman the last two options will be good for you.
Step 2: For the step 2, you will have to choose a theme
Themes are a great way to make your site look attractive. Well, you can change the theme whenever you want to. Add colours and HD pictures to make it look captivating.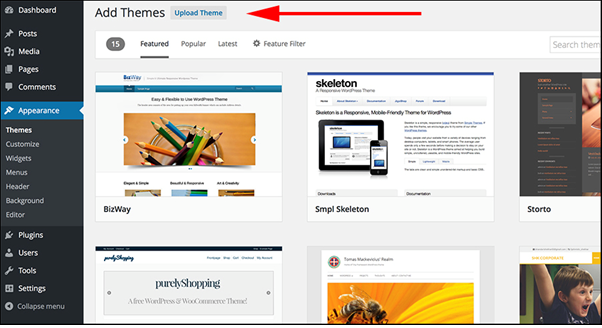 Choose the theme similar to what you want to work on.
Step 3: Choosing the domain name for the blog
Domain names could be a bit tricky for the beginners. Most often you will see that the name you choose for the domain has already been taken. Take your name for example, unless and until you have an extremely unique name, most of our names are common and will be taken for sure, hence, knowing what name you should pick for your domain is important. You can also buy a domain name too. But, go by our suggestion and don't indulge into buying one right away from WordPress and no it's not compulsory too. Try Godaddy coupon code to buy a domain name if you wish to.
The best way to find the right domain name for your page is to brainstorm a bit. Take some time and think about it, it's okay to take more than average time, because ultimately you would want a domain name which can be remembered easily. Keeping the domain name in your name is also a good idea, try adding different characters if your name is already taken, add your first and last name and see if it works.
Step 4: Picking the right plan
For the fourth step you will have to pick a plan for your site. If you are a first timer and want to start your own personal blog out of hobby then the right thing to do is to stick with a free plan.
Step 5: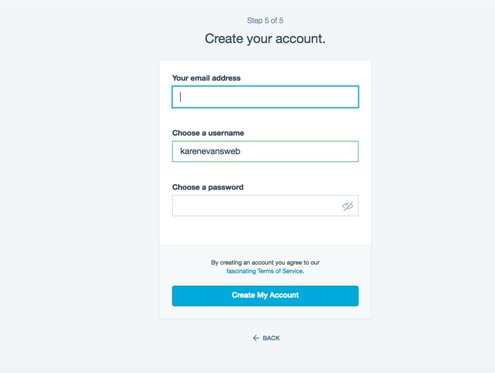 Once you are done with finding the right layout, theme, domain name, and the plan, you are good to go. Fill in your email ID that you want to be registered with. Then pick your Username. Now, don't spend a lot of time in choosing the username, it can be your name or even the name of your email ID. The username will not be the blog's name, hence don't worry. Next step is to choose a strong password and don't forget to save it somewhere secure. Our suggestion will be to pick a password with characters and numbers. This will make your password strong.
Logging in to WordPress
All this steps will create your account and now you need to login to start blogging. Verify your email and fill in the details. Go to your mail and click on the link that will be sent to you. Simply click on the link and you are done. Your email will be verified.
Creating your first blog:
After you log in, you can now move forward to WordPress dashboard. It's user-friendly and extremely easy to use.
If you wish to change the theme after logging in you can do that by going to the appearance section and selecting themes.
You will see a lot of themes, some of them will be paid versions and some will be free. Take our suggestion and don't jump into buying one right away. Select ta free theme for your site and once you get enough views, then you can choose to buy one. But for the time being stick with the free ones.
Select the theme that you like and then clikc on "active". There are over 200 free themes available on WordPress, so go ahead and pick one for your site.
How to add pages and blog posts?
Go to the dashboard and select on new posts and pages. If you are ready, then select 'post' and then 'new' and to add pages, click on 'page' and then 'add new'.
To start with you can keep one or two pages on your site, first being the about us page and the second contact page.
If you are ready to publish your new blog. Then click on post and click on "Add new". You can add photos too, once you are ready click on the publish option.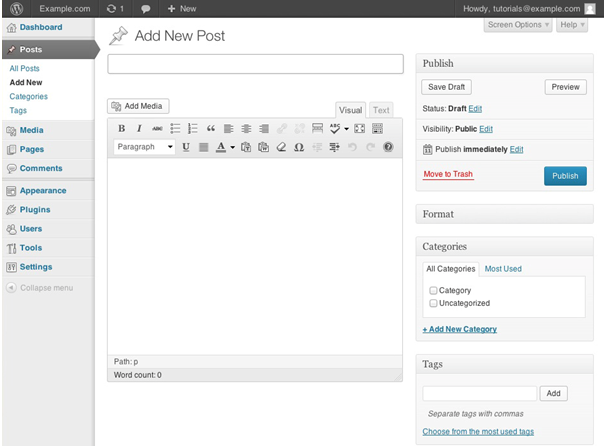 After publishing your first post, you can also add some tags to your post too. This will make it searchable. Don't get disappointed if your initial blogs don't get a lot of traffic, this happens to everyone. You can share it on your social media pages to bring in more viewers and ask them to share on their pages too.
That's how you roll…
So, your first blog is up and published. It's not difficult at all to start publishing your blog. You can create your own personal blog and share your travel secrets, or select a niche for your site. Choice is yours. So, go ahead and start blogging. Good luck!
Incoming search terms: