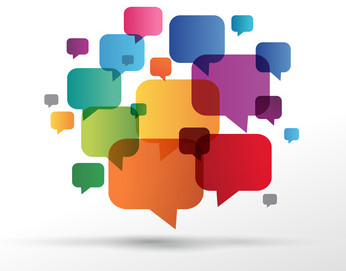 Starting a forum is not as complicated as it was several years ago. Nowadays, it is possible for anyone to build a self-hosted forum and run it without the help of a developer. If you have ever thought of making your own forum with a topic in which you are interested, now you can carry out the plan by following these simple steps.
Step 1: Find Your Niche
There are numerous forums on the Internet, and the common point of all the successful ones is that they have a defined topic. Being focused on a specific topic gets your forum noticed by search engines and potential users more easily. People do not want things too common or too general, after all. For the sake of the future development of the forum, we suggest picking a topic which you know well of.
Step 2: Choose a Forum Script
As more than a dozen of forum applications are available, choosing a good one can make your life much easier. At present, phpBB and MyBB are the most popular open source forum applications, while you also have other choices like Vanilla, vBulletin and SMF. These scripts are all well supported by most web hosts.
Which to use depends on your own preference, but we would suggest MyBB and phpBB since there are good reasons for their popularity. They both make it easy for beginners to get started.
Step 3: Buy a Good Domain Name
A good domain attracts attentions. When selecting the domain of your new forum, make sure you are including the keyword which means the focused topic in it, and keep it short and memorable. Besides, choose a popular suffix like ".com" and ".org".
Step 4: Purchase a Reliable Forum Hosting Package
It is important to choose a forum-friendly web host which offers reliable services and all the features you may need. Generally speaking, the web host should:
Provide an easy-to-use control panel and 1-click installation of popular forum scripts.
Deliver over 99.9% uptime and fast page loading speed which is less than 2 seconds on average.
Offer 24×7 technical support through multiple channels such as phone, live chat and email.
Offer a full refund guarantee so that you have enough time for trial.
Before signing up with a hosting provider, we suggest you read more reviews and statistics about the company.
Step 5: Install the Forum Script
Since most web hosts are now offering 1-click installers like Softaculous and Fantastico, the installation of forum scripts does not require technical skills. You only need to log into your hosting control panel, find the installer, and then follow the pre-set steps to get the forum script installed.

The installation is usually automated, so you don't have to create a database or download the script manually. The setup is also simple.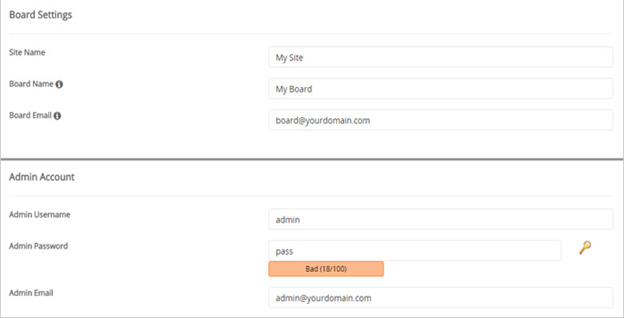 Step 6: Create Discussion Boards
If you don't want to leave the future threads on your forum in a mess, you need to set up 5-10 discussion boards first after logging into the dashboard of your forum. All of these boards should be closely related to the topic. Also, remember not to over-categorize your forum as too many boards confuse users.
No matter which forum script you use, you can get an easy way to create discussion boards. For example, in MyBB, this could be done in the forum management section.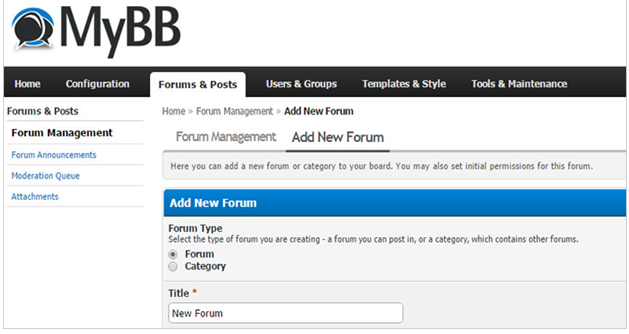 Step 7: Change a Theme for Customization
The default theme is usually good to use, but it does not show any personality since thousands of forums are using it. The good news is that almost all open source scripts come with hundreds of or even thousands of free "skins", so you can download one and personalize your forum easily.
Step 8: Go Through the Forum Configurations
Each forum script is built with numerous configuration options. To make your forum function in the way you want, you'd better find the section of forum configurations and settings, and then check all the available options including the site details, forum display, login, registration, attachment control, search system, spam protection, and the private messaging system.

Step 9: Advertise Your Forum
Your forum has been set up, but you have no user yet, so the next task to complete is to get new users. You can try the following methods to obtain the first users for your new forum.
Invite your friends or families who are interested in your topic.
Publish a post on your blog to tell your readers that you have a forum and encourage them to take part in.
Promote your forum in other forums or blogs in which you are active.
Ask experts in the field to participate in your threads.
Step 10: Publish Threads and Keep Interacting with Your Users
As the forum owner and originator, you should publish threads and start topics all the time to encourage conversations among your users. Besides, try responding to as many threads as possible and answer questions with creativity and helpfulness. This helps build your reputation.
For those active users, you can make them moderators, which not only reduces your workload, but also encourages them to be more engaged.
Starting a forum from scratch needs time and efforts. To achieve success from your forum, you should always keep the content quality, increase the user base, and learn more skills for management and optimization.