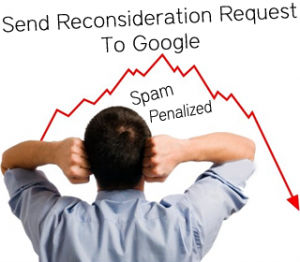 Now a days due to Google Panda and Penguin effect damage, all webmasters are working hard to get back their websites into Google by sending a complete reconsideration request. If you are suffering from sudden low traffic, poor keywords ranking and website disappearing from SERP's then it might be chances that you are penalized now. Hence you have to send a perfect reconsideration request to Google explaining him everything what happens and improve/fix your faults. Google web spam team giving a second chance to all webmasters to follow the quality guidelines otherwise they could easily ban a site that is violating rules without sending any notification. Therefore today I must tell you that How to reinstate your SERP ranking again and send a reconsideration request to Google.
Best Tips to Submit a Reconsideration Request to Google Webmaster:
1. Firstly Identify that your website or blog has been
penalized
or not. If yes, then here are some simple ways to check why site is performing poorly in search engine result pages.
2. Now read Google Quality Guidelines carefully and Identify what the cause of the site penalization possibly was.
3. Once you find the potential issues that you think caused the Google penalty, just explain him everything what happens to your site and you and now its turn to feel guilty and admit/fix your issues by doing some changes to your site.
4. Now its time to Send a letter to Google by clicking
here
explaining him everything and your changes made. For Ex-
Hello, Being a Googler and a Blogger it feels overwhelmed. However, After the Recent Panda/Penguin Update My Site's Traffic is declined though we have survived more than 10 updates without any problem whatsoever. We don't understand why you guys have penalized this blog because we always make sure to provide unique and quality content. The only thing that came into my mind is that Blogging Ways is bit new, so that could be the reason. Nevertheless, we wish that you guys can tell me where we are lacking. If it is a mistake then, Please reinstate my Traffic. Best Regards Karan Singh Chauhan
5. Thats it! Now wait for 1 week and Google emails you with some good news. Hope so!!!
Some Other Google Webmaster Videos on How to Send a good Reconsideration Request?
Final Words:
I hope you all must watch the above Videos from Google Webmasters to improve your Blog/Site SEO. So Enjoy and Please Comment below with your doubt and query. Also please share this on your social media networks etc. Have a Nice day, till then Peace and Blessing!