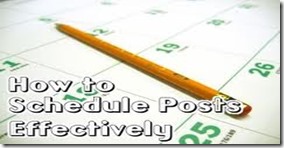 Now a days Automation is a big time saver, which is why it's such a big part of Internet marketing. When people think of automation, they typically think of preloading tweets on Twitter or setting up a solid auto responder series in AWeber. Many people don't realize they can also use automation with WordPress and Blogger by scheduling their posts. So today's article is all about How to Schedule your Blog Posts in WordPress and Blogger, So it can Publish Automatically! Have a look at below.
How it Works?
You will need to create and preload posts to your WordPress or Blogger account. You will choose the day and time that each post will go out. Then, WordPress/Blogger will automatically publish the post on the correct day. You won't have to do anything once the posts are loaded.
How to Schedule Posts in WordPress?
Go into your WordPress account. Hover you mouse over "Posts" and select "Add New."
Then, add in a new post. Be sure to write a compelling title. Otherwise, people won't take the time to read the content.
After you add your post, go to the publishing menu. Click "Edit" next to "Publish Immediately."
Then, choose the date and time and click "Okay." Once you do that, click on the "Schedule" button so you can schedule the post.
At that point, WordPress will hold onto your post until it's time to publish it.
Repeat:-
You can repeat the process as many times as you want. While there isn't a rule for how may posts you should schedule, it's a good idea to queue several so you won't run out.
Once you are finished, go to the "Posts" menu and click on "All Posts." Then, you will see a list of all your scheduled posts.
Use a Plugin
If you don't like the list view that WordPress provides, you can install the Editorial Calendar plugin. This plugin works with most Professional WordPress themes, and it displays a calendar of all of your upcoming posts. You can actually move the posts around on the calendar so they will post on different days. This is a great tool if you want to be able to see all of your posts at one time. It will give you a better idea of what type of posting strategy you are using.
As you can see, it's easy to schedule posts on WordPress. Come up with some ideas for your blog and then start writing. Then, you can use the time you're saving on WordPress on other marketing tactics, such as getting more followers on Twitter or running some contests on Facebook.
How to Auto Publish your all Blog Posts in Blogger?
1. First Go To Blogger.com >> Create a New Post
2. Now just write any post that you want to publish. After writing your post instead of saving it to draft (so you can publisher it later) just click on the Schedule box in your text editor on the right side of your screen.
3. Now its time to Schedule your post, select "Set date and time"
4. After selecting "Set Date and time" a calendar would pop out. Now just Select date and time of your post and you are all done!
5. Hit the Publish button. Enjoy…
All done! I hope now you will be able to schedule your blog posts in wordpress and blogger effectively. If you liked this article, then please share it with your friends in circle. Till then Bye and don't forgot to subscribe to our blog etc!