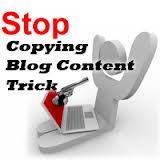 How does it feels when your blog post gets copied by other on his site and ranks higher than you in SERP's, Well its truly hurts and pains to our hard work and creativity. Now a days its being a trend of doing copy n paste as it is the simplest way to write a post easily. But now thanks to Google panda who kicks off ass of these blogs. Hence we should not totally dependent on Google Panda, in other way we should also do some extra things mentioned below to protect our blog post from copiers and being the original writer of it. So lets know the things.
Useful Tips to Avoid Getting your blog posts Copied by the Scrapers
1. Disable Right Click
This is the best solution as per my opinion. Disabling Right Click almost stops other person to copy your blog posts from your site. Now whenever somebody tries to copy some information from your site he will get a error message through a window. Note- If your blog deals with programming, designing etc, It's never advised to disable right-click because right-click is involved while copying codes.
2. Place warning Badges on your site
Its Must! Always place Warning Badges on your site that anyone who copies some content on your site without permission should be penalized and strict action will be taken against him. For ex- One can place a DMCA protection badge or Copyscape plagiarism on her/his site to scare away the leechers.
3. Show Partial Feeds
Well RSS is the only platform auto blogs and scrapers are powered with. Since each time your blog is updated with fresh content, the RSS Dynamically gets updated and notifies the scraper. Hence It is advisable to generate only the article summary and social qualifiers like Read More, linking back to your site.
4. Use Automatic Scripts like TYNT
This is optional but effective step towards Copycat. Now you can use scripts like TYNT which helps you to get a backlink to your site from your article when copied. For more information about this visit their official site at here.
5. Build Some Authority
Building authority or good Off-Page SEO can boost your index rate. My Blog posts get indexed within seconds. Once you've managed to gain authority and a fair index rate, you no longer need to worry about plagiarism. Note- Gaining authority is not easy and but with a proper promotion plan for your blog, you can easily get it in no time. From my experience, it's easy to gain authority with a niche site and high-quality articles.
That's it! Enjoy and dont forgot to subscribe to our blog for more interesting stuffs like this above.