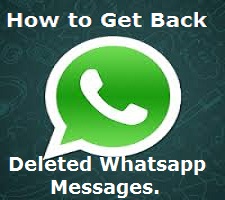 As we all know that today's generation are widely depend on social networking sites for communicating and interacting. Due to shortage of time, mostly people will communicate through Facebook or so many apps are available for interacting. You can get in touch even if the person is unknown for you. Today's post are related with How to recover your whatsapp messages. Sometimes an single message is very important for us but due to disturbance it is deleted by us, so from this post you are aware with how you can recover the deleted messages.  
If you have an Android phone than WhatsApp makes backups every day at 4am and stores the messages on the micro SD memory card of your Android phone. To restore the recent back up you have to uninstall and reinstall the WhatsApp.
Also Read- How to Install and Use WhatsApp on PC
Currently, WhatsApp is available for Android phones, iOS and Windows Mobile platforms which allows you to stay in touch with almost all your friends whether you know then or not.
How to Recover your Deleted WhatsApp Messages:
Below are the locations where you can find the backup files for respective Operating System and successfully recover deleted messages easily.
For Android-
Android: /sdcard/WhatsApp/Databases/msgstore.db.crypt
For iOS:
net.whatsapp.WhatsApp/Documents/ChatStorage.sqlite
Supposing that you have the backup file now, first thing that you need to do is launch a web service, Recover Messages which would actually get you going in this whole journey to recover stuff.
Click on the Select SQLite File.
Choose the backup file.
Click on I Accept and then on Scan button.
Wait for some time.
Click on appropriate tag to recover it.
That's it! Enjoy, Comment and please share if you liked the above article…