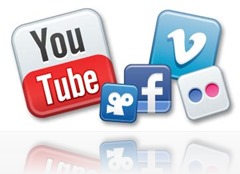 Wanna Make Money Uploading Videos on Video Sharing Websites, If Yes then must read this article. Now a Days many Bloggers are making hell lot of money $$$ with just creating and sharing videos on popular Video Streaming Sites. Since videos and images can get viral any time, all you need is some social, creativity skills and opportunity etc. Well These video sharing websites works on a simple funda of revenue sharing. Hence they provide you the right place to host your videos and in return they run advertisements on it. The more views you got, more is your Video Blogging Income. So what are you waiting for?….Just grab a good quality Camera and some Creativity knowledge, that's all you can starts to earn by single uploading etc. So lets see some Top 5 Best free video sharing websites below.
Also SEE- Do's and Don't's of YouTube Viral Video Marketing
Make Money with Free Video Sharing Websites
One of the best in the Industry and Owned By Google Inc. Being No. 1 Video Sharing Site ever, now you can also make money with that by just putting AdSense on it. thus You can apply and learn more about YouTube Adsense partnership at here. So hurry up to make your own funny or informative video and then upload it on YouTube to earn unlimited money.
Dailymotion is the second biggest video sharing website after Youtube, it has more than 25,000,000 unique visitors for every month. Video creators who regularly get thousands of views can apply to join the Dailymotion partners program and earn better revenue from all of the videos they upload.
Now Share your original videos on MetaCafe.Com, and you can earn $5 for every 1000 views you get on each video etc. Whenever you upload an video, it will get displayed on their home page for a while. This will grab you even more visitors in quick time. Therefore This is one of the easiest money making video website at internet.
Revver connects creators, viewers, and advertisers in a sponsorship marketplace for online video, taking full advantage of the open flow of information on the Internet, rather than trying to fight it. So Upload your videos on Revver and they display targeted AdSense ads next to your videos plus get 50% of the revenue generated by your videos.
Another popular Video Sharing hub which shares revenue on per month basis and payment has been made via PayPal or check. Blip is an PR8 Website and receive huge visitors per month. So its good if you upload your video here and took 50% revenue by yourself. Now You will also have the option to sell your videos to big production companies here.
Conclusion:
If you have any other ideas or suggestions, please share them with us about this Video Sharing Websites. Therefore, If you want to make more money from your videos, drive traffic to them from your Blogs and do SEO for your targeted Keyword. So that's how you can make dollars sharing videos online for free. Just integrate Google AdSense with your Videos and Earn even more etc. Till then Bye and Keep Enjoying delicious posts.