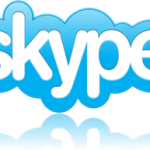 Hello friends,
As we all know that now a days Skype becomes very popular, and also become the face to face communication from one place to another. Skype was founded in 2003 by Janus Friis from Denmark and Niklas Zennström from Sweden. Skype allows users to communicate with peers by voice, video, and instant messaging over the Internet. Phone calls may be placed to recipients on the traditional telephone networks. Calls to other users within the Skype service are free of charge, while calls to landline telephones. Skype has also become popular for its additional features, including file transfer, and video conferencing.
Make Money online with Skype-How to?
1. Skype Affiliate Program
To make money online, you will need to have a blog or a website. Basically, they will give you a code which you need to put on your website. This will act as your affiliate link. Whenever someone signs-up for paid Skype services through you, like Skype In, Skype Out, Voice-mail etc, you will get a commission of 25% on every sale (according to the Skype blog). Skype also offers a $15 bonus commission on the Skype Wi-Fi phone package etc.
2. Skype Prime
Skype prime is a great feature. It gives you the opportunity to start your own service where you can charge people around the world for your expertise. Skype Prime has created somewhat of a stir in the blogosphere. It gives you the ability to charge someone for calls (either per-call or per-minute).
It having following points,
$0.50/min minimum all charge.
Skype takes 30% of whatever you charge.
You have to wait at least 120 days to get paid.
Working –
With the help of Skype Calls can be started free of charge. The provider then has the option of initiating a payment request. The rest of the call will then be paid. The provider has the option of either charging per minute, or charging per call. Skype credit will be deducted from the caller's account.
How it started?
you have to download the latest version of Skype. Then you need to set up a PayPal before you can use Skype Prime. Next, go to Skype Prime help page, and choose between becoming a caller or provider at the bottom-right. Now, all you need to do is follow the simple steps and you're good to go!
All Done! Thanks.
Incoming search terms: