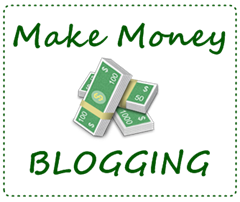 Everyone wants to make money via blogging as it sounds good and a proven method to make money online. Blogging being a simply profitable medium for earning money for new bloggers. Some people are earning thousand of dollars a day from their very home. In 2014, the world is all about blogging and blogging over internet. So today i am going to share my words on How to make huge money via blogging just below. Note- I am going to list all money making methods below which worked best for me in recent years plus to earn money via blogging all you have to need a website or blog. Have a look!
Money Making Methods from Blogging:
1. Google AdSense
Google AdSense no doubts one of the best 'contextual' advertising program ever by Google Inc. which pays you high CPC than any other Ad network online. Now you can monetize your blog or site fully with Google AdSense and make easy money in seconds. Publishers simply add a piece of code to their blogs that helps Google analyze what your page is about so they can serve ads on that topic. This increases the chances of your readers clicking the ad which increases the chances that you'll earn something from them. In simple words, more the traffic more will be the clicks and revenue generated. Google AdSense is also available for video, feed and mobile content. It is considered as the biggest source of income of todays webmasters.
2. Private Ad Sales/Sponsorships
It is one of the proven ways to make money online. In this, we can sell our private Ad spots directly to Advertisers for some money at monthly basis. This includes Ad sales of 125*125, 300*250 and 468*60 banners. To simplify this process many companies like BuySellAds comes into play which takes 25% of commission while selling your Ad spots automatically to Advertisers.
3. Affiliate Marketing
Affiliate marketing is a type of performance-based marketing in which a business rewards one or more affiliates for each visitor or customer brought about by the affiliate's own marketing efforts. Through Affiliate Marketing, we can also earn thousand of dollars over night. Here we can display Advertisers or Companies product on our site to earn some commission when their product sales. You can join popular Affiliate programs of Amazon Associates, Commission Junction etc.
4. E-Book Sales
Blogs where Google AdSense gets banned or BuySellAds wont approve, E-Books Sales is considered as the best method to earn. Yes its true, now you can earn unlimited through your own created E-Books online and sell them at a profitable margins. So just start writing your favourite E-Books in PDF format and when writing ends, pick up a unique e-Book design and delivering system online. Best of Luck!
5. Services Page
You have seen Services Pages on many sites or blogs offering free/paid services to its readers. When your Blog gets huge amount of traffic build a Services Page describing your services which you can provide easily to the visitors and make money. You can make services like Blogger to WordPress migration, SEO consultancy, Social media boost etc. Always make sure that your Services Page should be attractive and contains proper information about the services you offered to them. Mention Contact and payment details clearly.
That's it! Enjoy $$.