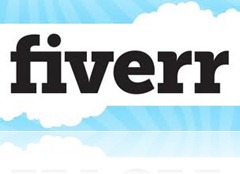 Yes you all heard it right as i am saying about making money with one of the largest innovative freelance and networking website known as Fiverr. At Fiverr all things done for $5 only whether it is a long or short term job. You can buy or sell any stuff for $5. The best thing about this website is that Unlike any other freelance websites that require you to have practical skills in industries such as writing, web designing or coding, you can offer just about any kind of service (called gigs) on Fiverr. Webmasters and other clients regularly browse these quick freelance job boards looking for good deals and alert the seller when they want to buy that seller's service. Typically the turn around time is very quick so you can produce that content for the client and earn yourself a few bucks within a few hours. Now without wasting much more time lets start with Fiverring below.
What kind of services you can offer on Fiverr?
"I will make your Site logo for $5?
"I will increase your twitter followers up to 1K for $5?
"I will make a video of my hands saying any message for $5?
In their website, they ask the question: "What are you willing to do for $5?" With this tagline, Fiverr seeks to not only help those who want to make some extra cash online, but also change the world of Internet-based freelance jobs.
Getting Started with Fiverr:
Before taking the plunge into the Fiverr marketplace, take a look around the site and see what everyone else is doing. Fiverr jobs are called "gigs" and users may create as many "gigs" as they can handle. See what gigs are popular and drawing interest, for example a resume writing service will may draw more customers than a gig offering a video of you playing happy birthday on a kazoo. I also recommend trying out a gig or two before creating one of your own, this will cost very little money and also give you a great idea how the site works and how buyers and sellers interact. Once you get the hang of how gigs work and how to interact on the site, come up with something you are really good at that is marketable to the general public and also something you can complete in a timely fashion.
How Much Money You Can Actually Make with Fiverr?
Note When you sell on Fiverr, you don't really get $5. Instead, they give you $4 as Fiverr charges $1 for their services. Despite the deduction, it's still a pretty good deal, considering that you get some money quickly and easily. Note- Fiverr only accepts PayPal and make payments twice a month.
One of their top sellers made 6000 sales last year. Multiply that by $4, that's around $24,000! Not bad for a part time gig right?
Of course that's not the "usual" results. Let's just say you make 5 sales a day and each sale takes you 5 minutes to complete. That's $25 a day or $175 a week or $750 a month for 25 minutes of your time in a day.
Hot Tips for Having a Successful Fiverr Career in 2014:
1. Be Unique in what you offer and do.
2. Use Great and Eye-Catching Headlines for your services.
3. Always implement Keywords in your Headlines and Description for better scrolling of your profile via Fiverr search engine.
4. Must use Templates for your gigs to save time.
5. Keep some proofs of your previously done data or job.
6. Note- Improve your communication skills and be polite with your client.
7. Make your profile killing and post on Multiple sites about that.
8. Be in Featured Fiverr Users etc.
That's it! I hope you had a great Fiverr career soon (make $1000 per month) and don't forgot to share or Bookmark this Article by pressing Ctrl + D. Till then Peace and Blessings. 
Also see- How to Make Money with Twitter?