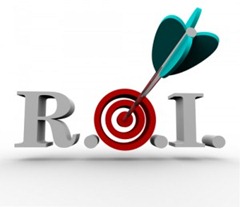 In general, ROI stands for Return on investment and hence it is one way of considering profits in relation to capital invested. In other words, ROI i.e Return on investment is the relationship between the total amount you spend and the total amount you earn from a certain internet marketing campaign. Therefore the conversion ratio and RIO of your site is more important then its rankings. You can have thousands of people visit your site however if your site is not converting the visitors into buyers then the site is useless. So lets discuss more on How to increase your site/blog ROI just below. Have a look!
How To Calculate your Return On Investment (ROI) ?
Return On Investment (ROI) for any advertising campaign is very simple to calculate. There are only two variations involved in the calculation formula:
Total cost of advertising campaign including all expenses related to this specific campaign
Net Profit of this specific advertising campaign.
The Net Profit (return) of an investment is divided by the cost of the investment; the result is expressed as a percentage or a ratio. That's it!
10 Great Tips on How To Increase Your Website Return On Investment?
1. Make your Website fully Search Engine Optimized!
First thing we should make our website totally search engine optimized by choosing and targeting the right keywords. Learn good and effective SEO techniques and then slowly implement it in your website. This will sure boost up your site traffic.
2. Reduce Bounce Rate of your Website
Yes its true site having higher Bounce rate could not manage its visitors too well! So we must focus on our site Bounce rate and try to reduce it as low as possible. Reducing Bounce rate will sure shot increase our site pageviews in large amount.
3. PPC Campaign
It stands for pay per click campaign which helps you get more visitors to your site in less period of time. In this, We should make our efforts more on targeted keywords. When your website is listed under the sponsored links column, the people who look through the search engine results page will also look under that column too which will catch their attention.
4. Social Media Blast
Well You must learn How to promote your website via Social media sites and its Marketing. Popular social media sites like Facebook, Twitter, LinkedIn, Google+, Pinterest helps you to drive lot of traffic. Hence your social media circle will be large and vasty.
5. Affiliate Marketing, Newsletter and Email Marketing is must
Affiliate marketing is a type of performance-based marketing in which a business rewards one or more affiliates for each visitor or customer brought about by the affiliate's own marketing efforts. Hence It can helps you in drawing more visitors to your site. On the other side, Newsletter and Email Marketing is also must! Well E-newsletters are a great way to expand your customer base without having to spend too much on your marketing efforts. Secondly, Email marketing is directly marketing a commercial message to a group of people using electronic mail (email). It usually involves using email to send ads, request business, or solicit sales or donations, and is meant to build loyalty, trust, or brand awareness.
6. Link Building Methods
To be successful in high website rankings, one should know How to build better Links? There are lots of websites on the World Wide Web which are giving you the services in link building, a method through which you can get more more traffic to your website. It includes Social bookmarking, directory submissions, article submissions, article writing, DMOZ submission, Squidoo lens creation, HubPages, WordPress Blog creation, link wheel creation, forum link building, press release submission etc. types of services offered.
7. Increase your Site Crawl Rate
According to SEO, higher Crawl rate means better and faster finding of your website in search engines. Hence your site must be discovered fast in SERP's to drive more traffic. This is only be possible if your site has higher/faster crawler rate.
8. Learn On-Page and Off-Page SEO tactics
Well this is most important. Learning On-Page and Off-Page SEO tactics is your first step towards increasing your website ROI. Now you can check all my posts under SEO category for learning SEO techniques properly.
9. Write Unique and Quality Blog post Content
This will surely rocks as your blog post comes first into consideration. You should must write great and original content for your site for better SEO and traffic. Sites offering low/thin or copycatted content will be banned from Google search engine as per Panda update.
10. Offer free Giveaways and Play Contests on your site
By doing this, People will more participate with your website and you. At last reward them with free Giveaways and change the mood of your visitors. Also this will makes your website/blog running busy and live!
That's it! Enjoy…