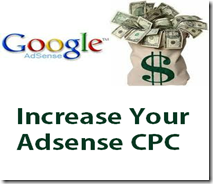 I Think now a days Google AdSense is becoming the major source of income for many people since last 10 years by their websites. It is considered as the highest paying advertising network ever in the world. Lots of People are putting Google ads on their sites/blog and earning large revenue from their very home. Its being a circle but do you know how to get maximum from Google AdSense? I mean maximum Click cost (CPC) from Google Ads. Yes today i am going to share my words on this topic- How to Increase your CPC & CTR in Google AdSense? So first let me clear what is a CPC and CTR is. Have a Look!
What is CPC in Google AdSense?
CPC is 'Cost Per Click' in average. Let's say, you get 0.02$ for one click and 1$ for another click, so your average CPC is (0.02$ + 1$ )/2 = 0.51$. CPC is a another factor in AdSense to decide the performance along with eCPM (Effective Cost Per Mile) and CTR (Click Through Rate).
You must try the possible methods to increase the CPC in AdSense to maximize the revenue. Increasing the CTR also will help, but when CPC is low with high CTR, still there will be less earnings.
For example, instead of getting 10 clicks at 0.02$ CPC ( 10 x 0.02$ = 0.2$), try to get 2 clicks at 0.50$ CPC which is 2 x 0.50$ = 1$, much better isn't it?. So, your CTR is less ( 10 to 2), but final earning is much better ( 0.2$ to 1$) because of good CPC ( 0.02$ to 0.5$). I hope you got my point.
How to increase Google AdSense CPC- Top 10 Tips:
1. Choose your Blogging Niche Profitably:
Keep Note that Choosing a right niche for your blog or website is very most important. Cost Per Click or CPC of an ad directly depends upon the topic on which you're writing on your blog. If you choose niche that pays low then you might be in trouble in making more money with AdSense. So its my advice to choose highest paying niche as per given below.
Health:Weigh Loss & Fitness, Anti-aging, Cancer, Dentistry and Orthodontics.
Insurance:Car and auto insurance, Health and Medical Insurance.
Computers & Internet:Computer Hardware, Computer Repairs, PC and Internet Security, Dedicated Hosting, ISP and Networking, Online Degree, SEO software and tools, Web Development, Stock Broking.
Banking and Finance:Loans and Mortgage, Credit and Finance, Debt consolidation.
Legal representation:Searches for attorney increased the bidding rate for this niche.
Digital Photography:digital photography schools, certificate, digital photography education, Careers in photography.
Psychotherapy:We can include this category in health, but i think it is best to treat this as a different niche as it gives more AdSense revenue as a separate site.
Real Estate:A damn good niche for getting good AdSense income. Google pays nice price for clicks on these Real Estate related ads.
Consumer Electronics:Gadgets, Mobiles and many other Electronic devices.
Antiques and Collectibles:Another good niche to choose for getting high AdSense income.
Dating: There are Lots of lonely hearts out there and the online dating sites are willing to pay more money to find them.
2. Concentrate on Highest paying Keywords and Blog post Title
There is a fact that Advertisers pays based on a popular keyword. Hence You must find out the high paying keywords for your blog topic and write about or include them in your blog posts. Now Google AdSense robots scan your content before display ads, if they find the valuable keywords and useful content, then Google will serve high quality ads. Hence your blog Post title must contains popular and targeted keywords.
Also see- Top 10 Highest Paying Google AdSense Keywords Of 2014
3. Enable Image and Text Ads
I have seen many bloggers disable rich media ads on their blogs and show only text based ads, this will seriously decrease your AdSense CPC in great manner. So please don't minimize your earnings with Text based Ads in Google AdSense.
4. Ad Placement
You should never neglect the placement of Google ads on your site as it is directly proportional to your AdSense revenue. Hence one should know where to place ads on their blog for good earnings. Well! Its answer is simple place 2 ads inside your post and 1 at the outside of your blog post.
5. Country Matters
One of the most important factor that can increase CPC is the country you are targeting. For example a click on an ad from USA can pay you up to $2 to $3 and click on same ad from India can end up paying only 20 to 30 cents.
6. Google PageRank
Google page rank is a true indicator of your website authority and popularity in your niche. Google AdSense seems to be paying high to their publishers who have websites having page rank of 5 or even more. So you should look at ways to improve your website page rank in Google.
7. Monitor the Performance of Google AdSense Ads
You should start tracking the performance of various Google AdSense Ad units in your Google AdSense account by creating custom channels for them. You should keep track of average CPC, CTR and total earning of each ad slot on your website pages. So the idea should be going ahead with the most performing Google AdSense Ad slots while leaving out the low performing Google AdSense ads.
8. Ad Review Center
At Google AdSense you will find Ad Review Center. You can go there and see yourself how much each ad category is paying you. This will show you different ads category that are showing on your website. If you find that any ad category is not paying much then feel free to block that category.
Try to block those category which are completely irrelevant to the content or niche of your blog. Suppose blog is about Technology then block the ad categories for Dating, Politics, Religion etc. This will surely increase your CPC and AdSense revenue too.
9. Competitive Ad Filter
Just like Ad Review Center there is Competitive Ad Filter in Google AdSense. You can go there and block the specific or general ads from appearing on your web pages. You can block the ads for entire domain or just a particular website in that domain name.The ads that you would block may belongs to your competitors. Therefore you can increase your CPC by not showing those particular ads.
10. Too many Ads – Less CPC
One thing more i noticed that most of the new bloggers are putting too many ads on their blogs everywhere as they think that someone will click it, but if your articles are too short and also having no rich Keywords then Google will show high paying, interested ads to the visitors and as a result they will click that but no earning will be generated because of low paying ,non relevant/similar and public ads too. So as a result your CPC will decreased, Now my advice is that only to place ads in one or 2 places but write genuine articles and use keywords then your CPC will increased by leaps and bounds guaranteed.
I hope you all will follow my mentioned strategies above to get higher click value from Google AdSense in no time. Thus boosting your income by around 50% more. Enjoy!