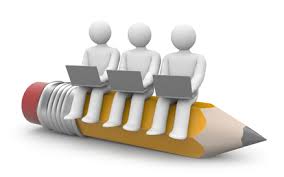 Well there are many bloggers who simply write their content and pray for many readers to come out of nowhere. You are already guessing: this is not the most successful type of bloggers. On the other hand, there are proactive bloggers who write extraordinary good content, reach out to other bloggers of their field, post as guest bloggers and build their reputability in the blogosphere quickly.
When you see how many bloggers have become successful with the help of guest blogging, it's surprising why everybody doesn't do it. An impressive guest post for an already established blog provides you with exposure to a great amount of readers, it gets you plenty of subscribers and regular visitors and it creates many links. If you want to increase your blog's traffic and build your reputation through guest posting, you have to do it right. The first step is to impress the blogger where you want your guest post to be featured. If you don't exactly know how to do that, don't worry – this article has got you covered.
Best Tips to Get your Guest Post Published!
Search for the right blogs
The first and most important thing is to search for a blog that has a similar audience to your target group. A blogger won't accept your guest post if they have absolutely nothing in common with you. Even your post gets accepted and published on a blog that isn't associated to your niche; it won't bring you many readers. On the other hand, if you contact a blogger who has a similar target group and you get your post published, that will have a significant impact on the number of visitors to your blog.
If you are wondering where to start, the best answer would be: start with the blogs you visit regularly and you like reading. After that, start researching your competition in the blogosphere and don't take it as competition, but as an opportunity for great collaboration.
Read this- Top 5 High PR Blogs to Submit a Guest Post
Get familiar with the blog
In order to get a certain blogger impressed by your post, you have to first get familiar with the things they appreciate. There is an easy way to do this: read though their blog and realize what kind of posts they publish. The blog's style is very important. If you are interested in writing a guest post for a blogger who has a friendly, conversational and personal style, it wouldn't be a wise idea to send a guest post written with professional language and academic style. You have to realize what kind of blog you are going to be writing for and pay a lot of attention to writing a post that would fit in.
If you regularly read the blog you are interested in, it is recommended to leave valuable comments and get recognized by the blogger. This will increase your chances of getting a guest post published there.
Learn what bloggers are looking for
Reputable and well-established bloggers will not publish just any guest post. Most bloggers are honored to help upcoming bloggers and develop collaboration with them, but if you send an unimpressive guest post, you will fail to succeed. There are few things that reputable bloggers are looking for, so make sure to live up to their standards:
Your post has to be backed up by relevant research and data. Most reputable bloggers are not interested in your opinion only. Your arguments have to be strong, and the only way to do that is by discussing relevant sources, which means that you must avoid basing your writing solely on personal standings.
You have to give the blog readers something new, fresh and interesting. Only original content with a unique point of view can impress the blogger and get your guest post published.
Be clear, concise and understandable. No one wants to read never-ending discussions that only the writer can understand and don't lead to a practical point.
Avoid the common guest blog mistakes
Most upcoming bloggers who are trying to get their guest posts published are making beginners' mistakes. Here are the things you have to avoid doing:
Surprising the blogger with an already written guest post out of the blue. You need to consult the blogger and send them your ideas for a guest post, suggest a few points of discussions and allow the blogger to make suggestions. If you send clear suggestions with sub-points, it will be more likely for your blog post to be accepted.
Not sending samples of your writing. Even if you are new in the blogosphere, writing samples are necessary for your guest blogging offer to be accepted. If the blogger is impressed by your samples, half of your work will be done; you'll just have to write an even more impressive guest blog.
Writing solely from your point of view. It is good to be a blogger with a strong opinion, but if you don't support your writing with facts and research – no one will be interested in publishing it and reading it. You can write these things on your blog, but a guest post for a highly reputable blog has to be supported by strong arguments.
Trying to make money out of it. Do not include any affiliate links in guest posts! You have your own blog for this purpose.
Answer to the comments!
If you managed to impress a blogger and get your guest post published (congratulations!), it is important to follow the comments and answer any questions. Don't be too aggressive with this, saying "Thank you", or "I appreciate your interest" on every single comment to your post, but make sure to answer the questions and stick around to follow the discussion under your guest post. If you succeed in developing a strong discussion with interesting points of view and the readers keep commenting for longer than a day or two – the blogger will definitely accept more guest posts from you.
Author's bio:
Alice McLean is a writer at best dissertation with background in history, sociology and internet marketing.  Now she is writing her first book on internet marketing.