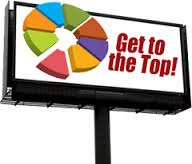 Are you Want to be on top on the SERP's like ProBloggers, if yes then must read this post carefully. SERP stands for Search Engine Result Pages and your site matters if it is on top of SERP's to gain maximum traffic. Hence leading on SERP's is must. Visitors will pick up and choose your site to visit first with their keywords searched. Therefore our site/blog needs to be on top of SERP's to popularize faster in short period of time. Hence Today I will tell you How it gonna be possible just below. Have a look!
Top 10 Best Tips to get listed on Top of the Search Engine Result Pages-
1. Firstly Your website or blog must obtain a good PageRank atleast 2.
2. Faster Crawler rate of your site matters mostly.
3. Pure and original blog post Content plus your article should be at least of 300 words each with suitable inbound links.
4. Proper Keyword optimization is necessary to get higher rankings. Not Keyword Stuffing man!
5. Describe your blog post content with healthy and effective Meta Keywords, Title and Description.
6. Always prefer to use H1, H2 and H3 headings in your post to highlight main Topic/Heading or Sub-Topic.
7. Make sure you blog is not penalized by Google Panda or Google Penguin Penalty, if yes, then please send a Reconsideration request to Google Webmaster team.
8. Give necessary Tags and Categories to your Blog Post.
9. Your Article must consists of proper ALT tags at images, anchor text etc to get high rankings in SERP's mainly.
10. Must Use optimized Permalinks or url structure for your blog posts. Thats all !
Final Words-
Keep Note that it's very important for us and for our site to be to top of the Search Engine Result Pages because that will makes out our hard work to shine. Also getting listed on top of Google SERPS can only bring us quality traffic to our blog etc. Thanks and Hope you better understand what I am saying… Anyways Happy New Year for today!