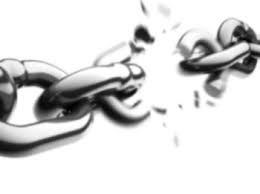 In Fact, Broken Links also referred as Dead or Bad links in your website or blog. There are basically that urls that return a 404 Page error. They can destroy a user experience, especially if they link to an important download or file. Hence you must fix it to save your site from Google Panda and to keep your visitors on the track always. Therefore today I must tell you how to find broken links and how to fix it in effective way just below. Have a look!!!
Why having these broken weblinks so bad?
Dead/Bad hyperlinks on websites are not just annoying – their existence may cause some real damage to your online business as well as to your reputation in the Internet! Because of that a web-site may:
Lose some of the existing customer base (current users sooner or later will get frustrated enough to never come back)
Get problems with getting new customers (because of the dead weblinks people simply won't be finding things/pages they are looking for).
Damage your reputation online (most of online customers consider stale hyperlinks as demonstration of no respect to them from the site's owners)
Get negative impact on your website's ratings with major Search Engines like Google, Yahoo and Bing.
How to Find broken Links within your Website :
1. For WordPress Users you must install a plugin named as broken Link Checker to find broken links at all. This plugin will check your posts, comments and other content for broken links and missing images, and notify you if any are found.
Features of this plugin-
Monitors links in your posts, pages, comments, the blogroll, and custom fields (optional).
Detects links that don't work, missing images and redirects.
Notifies you either via the Dashboard or by email.
Makes broken links display differently in posts (optional).
Prevents search engines from following broken links (optional).
You can search and filter links by URL, anchor text and so on.
Links can be edited directly from the plugin's page, without manually updating each post.
Highly configurable.
2. Xenu
Another free tool we recommend is Xenu Link Sleuth. After you've installed the Xenu software and opened the tool, go to File – Check URL, and enter your website's domain. Uncheck the box named "check external links", and click "OK" to run the analysis. Note that if it's the first time you've used Xenu, it can take a little while to complete the report. So be patient.
3. Must try some Online Sites to check broken
links: http://www.iwebtool.com/broken_link_checker, http://www.brokenlinkcheck.com/
4. You can also use Google webmaster Tools for finding broken links under Health>> Crawl errors, Now click on Not Found button to see all bad links. That's it!
How to fix these bad links :
Now once you found all the broken links to your website, just replace original links with that and get rid of 404 errors. Or you can also redirect dead links to new working links using Redirection. Enjoy and Don't forgot to bookmark this article!