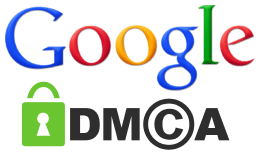 Have anyone Copied your article? and you don't know How to file a DMCA Complaint to Google for removal then this article is for you sir! Well DMCA stands for Digital Millennium Copyright Act and it helps people to take down other sites if guilty found. DMCA guarantees to take down the copied content within their branches like Blogger, Feeds, YouTube, Adsense, etc. which provides you free and 100% satisfaction ways to get your content removed from the copied website or blog. Its a fact that Internet is full of plagiarism and you never no when your content is picked up from your site and is copied to another site. So in this article, I am gonna tell you How to file a DMCA complaint against your targeted site.
What is DMCA?
The Digital Millennium Copyright Act (DMCA) is a United States copyright law that implements two 1996 treaties of the World Intellectual Property Organization (WIPO).
What is DMCA Take Down?
Other from Google, DMCA .com can also help with stolen blog content, videos, pictures, websites, games and more. Any country, any content, anywhere. This is what our team of professionals do everyday.
How to File a DMCA Complaint with Google for Copied Content
1. First of all find the List of Websites that had Copied your Content by searching on Google.
2. You can take help on online plagiarism sites like Plagspotter or Copyscape.
3. Now Once you found those websites that copied your content, go to Google DMCA page and report a DMCA complaint against the website.
4. Then Select the topic (or platform) through which you are affected and then click on your issue like this-
5. Lastly you would asked the type of content. Check according to your copyright violation like text, videos, etc.
6. Now you will be redirected to a form page and enter your details and get go!
All Ok! Hence wait for 24-48 hours and Google will get back to you with some message.
Also SEE- How to Save your Blog Posts from being Copied
Conclusion:
I hope the above mentioned article will definitely gonna help you to file a DMCA Complaint with Google to Remove Copied Content. So just take analysis of your backlinks and content spread over the internet and file DMCA against the wrong. Till then Peace!