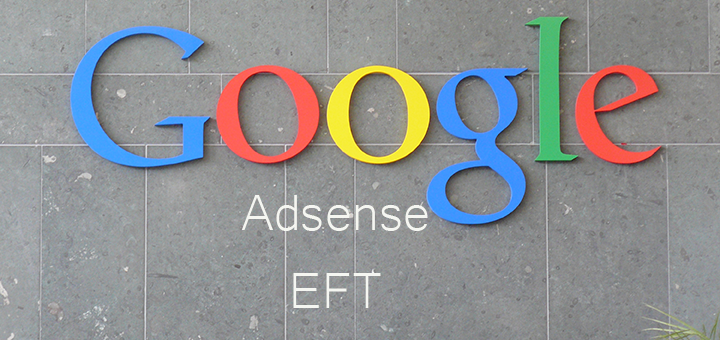 Well EFT stands for Electronic Fund Transfer and its an very old procedure for transferring funds directly to anyone bank's account from Internet. Well these are the very common methods of transferring funds but now the good news is that Google AdSense also supports that for Indian People. Thus Google has officially decided to start  EFT i.e Electronic Fund Transfer payments for Adsense Publishers located in India etc. This is also called as wire transfer payment and already available to some foreign countries like Australia, United States, Italy etc. So what are you waiting for, ignore checks because they took time to issue and deliver to our homes, just prefer EFT systems. Now being confirmed on 5th March 2014 Official Forum of Google Adsense by Adsense Pro Payments. So just have a look what AdSense says-
Hello AdSense publishers in India!

We're excited to let you know that we'll soon be improving the payments process in India and use a faster, more reliable, and secure alternative to cheque payments.  As part of upgrading your account to our new payments system, we are replacing cheque payments with U.S. Dollar international wire transfers.  We think you'll find this to be a major improvement over cheque payments, and we welcome your feedback to let us know how this changes your payment experience.  Publishers participating in our recent wire transfer beta testing report minimal fees (typically Rs. 56/- to Rs. 110/-, approximately $0.90 to $1.78) and favorable exchange rates on these transactions.  You'll benefit from receiving these payments in your bank account automatically, saving you from a trip to the bank.

I'd like to extend an invitation to anyone who would like to opt-in to wire transfer payments for the upcoming March scheduled payment.  If you would like to receive this update on your account now, apply a "self-hold" to your payments.  You can find this feature within the "payment settings" options.  Over the coming weeks, we'll be upgrading accounts in India with a payment self-hold to our new payments system.  To be eligible for this month's payment cycle, please make this preference change prior to Sunday, 16 March, 06:00 (AM) IST.

After this upgrade, you'll need to provide wire transfer instructions for your bank account so that we can send your future payments.  Be sure to obtain your bank's specific wire transfer instructions for receiving U.S. Dollar wire transfers from abroad.  While you may be able to find information such as your bank's SWIFT code from an Internet search or members of the forum community, we strongly recommend only using instructions that you receive directly from your bank's web site or agent as incorrect information could delay your payments.  Unlike our old payments system, there is no strict monthly deadline for updating your payment details, so you'll have plenty of time to complete this step.

We want you to receive the most value possible from your AdSense payments.  Google pays most fees involved with sending payments by wire transfer and does not charge a fee for this service.  Your bank will perform the U.S. Dollar to Indian Rupee currency exchange according to their policies, and it will typically assess a small fee covering the mandatory Service Tax required for currency conversion transactions. We recommend that you check your bank's fee schedule to understand how it applies fees for receiving foreign wire transfers. We cannot recommend or endorse specific banks, but we suggest sharing wire transfer experiences within the publisher forum community.  Sharing the name of the bank you use, fees assessed, and exchange rates received are OK.  For your security, please do not post personal details about your bank account, payment amounts, transaction numbers, or other identifying info.
Eligible Criteria for AdSense EFT Payment:-
To receive payments through EFT payment method, all you need to eligible for the below criteria given
Your Payment address must be located in India
Your Adsense Account must be approved through pin or direct method.
Minimum $100 balance in your Adsense account
Also You must have Personal Bank Account with an Indian Swift code which have 8 or 11 characters and IFSC code etc.
Read more on Google Adsense EFT payments
How to Enable EFT Payment in Google Adsense Account?
First of all Log into your Google Adsense Account.
Now click on the "Settings" Icon and choose "Payment".
In Payment Settings click on "edit self-hold" option and check "hold payments" box in the next screen.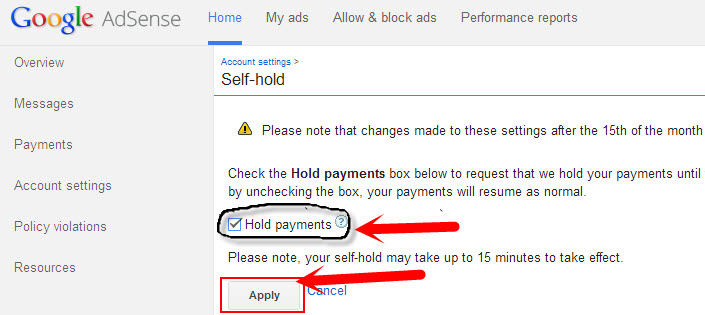 That's it. You are done. After 16th March, add your EFT details and get your payments within few days.
Now After hold your payments with self-hold option you'll receive one mail from Google Adsense with a message like "your account has been upgraded".
1. Now login into your Google Adsense account and visit payment settings. Now you need to enter your bank details to get payments through wire transfer.
2. There you need to provide your bank account number, IFSC Code and Swift-Bic Code.
Note: To get payment of this month you need to make these changes before 21st every month. Still EFT payments are in beta process, so if you want to get payments from Standard check method then uncheck "hold payments" option before 16th march 2014.
Final Words:
Well Frankly Speaking, I am very happy with this move of Google AdSense. I was waiting for this announcement because getting payment through cheque was definitely a time-consuming and troublesome. Apart from that, EFT mode of Payment is much secure than cheque delivery. Therefore I think all other Indians will definitely love that. Share if you like…
Also See- Lost AdSense Account or Banned- How to Get it Back?
Top 5 Highest Google AdSense Earning Blogs in India
All Done! Enjoy your AdSense Earnings!