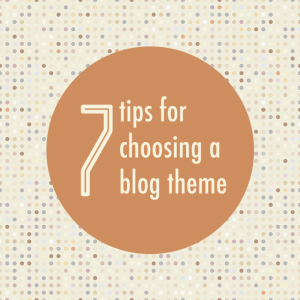 As we all know that a Theme matters a lot for a blog and blogger because a theme is a key thing to attract your visitors. It is very tough task to choose a perfect theme for your blog because there are million beautiful of free and paid themes present on the internet but the question is that which theme is better for you because only beautiful looks doesn't matters there are many other important things which matters a lot. If you are also looking for a perfect theme and confused that which one is good for your blog, you are at right place because today I am going to write on the topic How to Choose a Perfect Theme for your Blog. In this article you will get some best tips to choose a perfect theme for your blog. If you will choose a theme by following these tips, I am sure that you will definitely get a good theme your your blog.
How to Choose a Perfect Theme for your Blog:
Here are some best tips to choose a perfect theme for your blog:
1. A Theme With Good Designs
I think that you all people already know that a good design is very important because it is the first impression of your website on your visitors but only beautiful theme is not sufficient because it should also be related to your blog's niche. Just think how a blog with technology or blogging niche looks when it was having sports or other niche related theme. So, always choose a beautiful theme which is matching to your niche. If you want to buy a new theme according to me Genesis theme are best for you. Blogging Ways is also using Genesis theme.
2. Browser Compatibility
Make sure that the theme you are using is compatible with all internet browsers because some themes are good in its looks but when we open it in older browser it completely changes and looks very ugly. So always choose a all browsers compatible theme.
3. Fast Loading Time
One of the most important things which a blog theme must contains. Always choose a light theme because heavy themes takes very long loading time. People never likes a theme with slow loading time. Slow loading time can take you visitors away from your site forever. So always choose a fast and light theme.
4. Trusted Source
Always buy or download your theme from a trusted source like Genesis, Thesis, Elegant Themes etc. Your theme should be trusted because many of theme providers put malicious codes which makes your blog slower and even can down your blog. And according to me always prefer paid themes instead of free because free themes have many disadvantages.
5. Responsive Theme
Choosing responsive template is also a good very essential. Responsive sites mainly didn't make visitors bored by scrolling because that template will fit in there computer, mobile or tablet PC's screen, so it will lower your site's bounce rate and also will increase your traffic. Most of the free themes are not responsive so always prefer paid themes.
See- Top 10 Best Mobile Responsive Themes of 2014
7. Optimized for Search Engines
It is true that themes should be optimized for SEO. Many templates are not optimized and that will affect your site's SEO too much, even. If your blog is not optimized with SEO, you can have a great loss of visitors and traffic. Changing theme again and again can also effect SEO.
That's it…