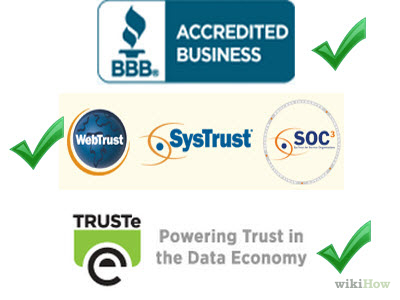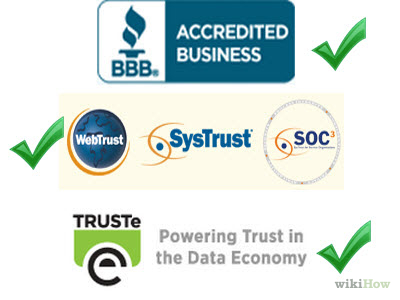 Well Website Trust or Trustworthy is one of the main issue in identifying the site whether it is safe or not among people! Now a days there are many fraud or scam sites exists which can lead to you serious harm so that's why we have to know whether it is Trustworthy or not. But Do you know how to check? If not, then don't worry as today I am goanna tell you How to Know which website is Trustworthy or not via some online sites. Hence this indicates that trustworthy factor is must in identifying the type of site or any blog etc. So lets begin the process of detection of legal and illegal sites below.
How to Know Whether a Websites is Trustworthy or Not?
1. Look for a secure connection in your browser
Yes, First of all its your duty to check for a secure connection established in your browser address bar successfully! I mean When you are accessing https:// content, then your address bar should be green. Identity should be verified, the encryption level should be such as 128/256 bit etc. And When the browser address bar turns red and indicates some serious warning, we should came to know the bad sites.
2. Search for a trusted certificate
Now Secondly its time to look for a trust or legal certificate there. Always Check whether the website you are opening has a trust seal attached by one of popular Authentication Service Providers such as VeriSign, TRUSTe and McAfee Secure etc. This should be must in order to know the trustivity of the site. Note- Usually these trust seals will appear in your homepage or payment page where you do any type of online financial transaction etc.
3. Measure the Website Content and Quality
Thirdly, It comes to your Website measurement and overall Quality itself. Hence its your duty to check the website content quality properly and check its legality. Carefully observe the website design, layout navigation, type of content, privacy policy, disclaimer, about us and spell-mistakes etc. Websites with poor English along with poor content is more likely to be an untrustworthy site etc. After all these, mark your way.
4. Check its Reviews
In order to identify some scam sites online, all you have to do is reading reviews at Google or at Forums etc. Just search for legal and genuine reviews inside the site or any location. Ask different people about that site or search for any complaints there. You can also try some online sites such as Webutation, Alexa's Site Audit for some sort of reviews there.
5. Browser Extensions
Now There are lots of Free browser add-ons available out there such as WOT, Webutation, Trustpilot are popular among them all. You can any of them for your welfare and security. These browser applications runs very well and gives you overall ratings, score out of 100 and reviews by millions of people.
6. Antiviruses
Another method is to purchase, download and install popular antivirus program such as Norton, Avast or AVG in order to detect low quality or fraud website. These antivirus software program are very popular now a days and tells ideal report about any website or phishing page. Some of the popular services are-
1. Norton Safe Web by Norton (Symantec)
2. AVG Link Scanner by AVG
3. McAfee SiteAdvisor by McAfee
Final Words:
That's it! I hope now you all are very clear about this and never forgot that Trustworthy is the first thing we can take into consideration in order to have faith in it. So please follow these above steps carefully and rule the web safely. If you have any other suggestions, then please mention it in the comment section below and I will make it live asap in the article. Till then Good Bye…