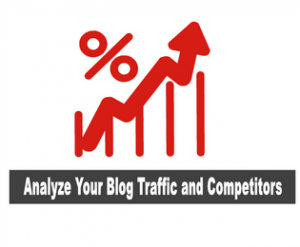 Well Traffic is first thing comes into consideration while looking at a Competitor's website. Hence Looking at a website's traffic gives us an idea of how successful that website is. Although Traffic is directly related to making money, popularity and successfulness of a website. Without it, your blog is no more alive. Hence you should create quality content in order to drive massive traffic to your pages. Therefore today I am going to tell you How to Check your Competitors Traffic Online via some tools or sites. Analyzing what your competition is doing online is just as important as monitoring your own website or blog. SEO is all about battle and If you want to exist, you have to fight and outrank your Competitors. The tools and sites which I am gonna to mention below helps us in getting insights into competitors' traffic, keywords data etc in more detailed version. People ask me Is there any way to check website traffic for free, I say Yes but after reading my this post. But Now the issue and question is
How to Check Competitors Traffic, Monitoring Competitors Traffic free, Analysing Competitors Online Traffic for free, Useful Tools to Determine or Predict Site Traffic etc.
Not to Worry as today I must clear your all doubts and queries. Keeping an eye on what your competitors are doing i.e Spy is must to succeed in life. So here is the list of sites that is helpful in checking competitors traffic online but at least they give you a general approximation of stats, such as page views, unique visits, earnings, bounce rate, keyword positioning, backlinks etc.
5 Best Tools to Check Competitors Traffic for Free
Google Display Planner is a free AdWords tool that you can use to plan your Display Network ad campaigns. You will just need a few basic details to get started, like your customers' interests or your landing page. This Display Planner then generates targeting ideas along with impression estimates and historical costs to guide your plan. Now Google Ad Planner is the most accurate ways to measure/determine a competitor website traffic, after all it is created by SEO Experts in the industry.
As per Wiki, Compete.com is a web traffic analysis service of Compete, Inc. which operates in the United States (US) and publishes the approximate number of U.S. visitors to the top 1,000,000 websites. Also it provides a lot of similar information on a website's ranking, except it allows you to enter bulk competitor sites to see a graphical breakdown of the traffic trends, top search terms, and the websites sending traffic their way etc. Now You will get unique visitors no. and some competitor's websites list with their monthly unique visitor's numbers.
Its all about Competitors Research and Research. SEMrush is created by SEO/SEM professionals for SEO/SEM professionals only. Their data report seems to be pretty accurate and should offer value to your research. Now here you can check site's traffic, income report, keywords ranking, organic traffic and many more. Actually its an keyword and AdWords research tool that analyzes Google and Bing SERP data to provide information on domains and keywords.
Well SimilarWeb may also provide some free data about any website or blog, including your competitors. SimilarWeb is a web ranking and competitive analysis tool developed by SimilarGroup. It is an online service that provides traffic activity for a given domain such as website ranking, traffic source, leading referring sites, top keywords, and geographic breakdown etc. Now its even easier to know competitors traffic online via this site.
It provides demographic information about the visitors from any URL or link. Well Quantcast measure provides free, accurate and dependable audience insights for over 100 million web and mobile destinations. Hence You can sign up to have your site "quantified" and receive even more in depth information on your site. So lets give it a try to check or analyse your Competitors traffic for free etc.
Conclusion:
Well This is how I used to check competitors website traffic online for free, now its your turn. Bonus tip- You can also use BuySellAds, Flippa and Alexa in order to determine your competitor traffic very accurately. In the end, I would like to request you to please share the article and increase social likes. That's it, Have a great day!