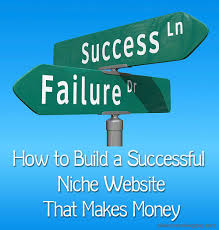 Are you want to earn more in less time by applying less efforts? If yes, then must build a Micro Niche Site and rank for your site name first in Google. Making Money Online got easier with Niche Sites, People earning thousands of dollars right now by targeting single keyword. All you have to do is find your favorite niche to write about and do some link building for that topic or keyword you want to rank on. So today I am going to tell you How to a Build a Successful Niche Site in 2014 and Make Huge Money Smartly.
What is a Niche Site?
Micro niche websites are the websites build around a particular niche or topic. It can be a problem related to your laptop, skin disease, medicine, electric product or anything around a very narrow niche. In that Site, your area is limited and write about what you choose.
How to Build a Successful Niche Site that Makes Money?
1. Do Keyword Research
Keywords are that phrases or words that potential consumers will type into the search engine to find what they are looking for. Always choose 2-3 words long tail keyword for your niche site and start doing research on it like monthly searches, low competitive, CPC etc. Tools like LongTailPro can help you in this case. Note- Make your domain name related to your chosen keywords.
2. Build Proper Content
Now after you choose your domain name, its time to write content for it in large. Post at least 10-20 articles on it and provide How to Guides, Tutorials etc inside your Niche Site. Also Choose nice looking theme for it and design it as per your way.
3. Search Engine Optimization
SEO is Must for your business. Without it, your site is no more in the Search Engines. You also need to structure your keywords throughout your website in a way that is SEO friendly. Hence you should know On-Page SEO ranking factors, Meta Tags Optimization, etc for better rankings.
4. Link Building
There are many ways of obtaining incoming links. One of the oldest and best methods for getting natural and quality incoming links is to create quality content. That means to rank higher for your chosen keyword, all you have to do is link building for that. Try Guest Posts, Blog Commenting, Forum Posting, Directory Submission etc for that keyword and link back your Micro Niche Website.
5. Monetize it
Lastly Its time to monetize it, Put Google AdSense on it and Join Popular Affiliate Marketing Networks like ClickBank, CJ, ShareaSale etc to promote your desired Product matching to your site niche. This will bring you more joy and dollars etc.
All Done! I hope this tutorial will help you out with your Niche Site and make passive income for you in coming time. Till then Peace and Blessings!