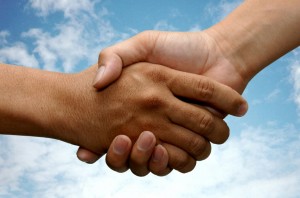 Almost 50% of the people doesn't know How to Build good and healthy relationships with top bloggers in order to improve their own blog and learn some important aspects of life. For building up a successful blog all you need to build some nice relationship with ProBlogger. Blogging sphere is like a real life actually, and unfortunately, not everyone can build a good relationship with other bloggers and get a good reputation among them. From my 5 years of experience, I learn that building relationship is must to survive and learn new things with other bloggers. Therefore today I am going to tell you how to interact with top and popular bloggers to build healthy relationship.
Tips on How to Build Good Relationship with Top Bloggers:
1. Interview Them
Its my best strategy that really works. Now you can do individual interviews asking each person the same set of questions about something in the realm of your niche topic. This will help other knowing the interviewed person more deeply.
2. Do Blog Commenting on their Blogs
This is must for every blogger who wants to build a good relationship with his fellows and make them know about him. Doing blog Commenting on other blogs will also increase your traffic and backlinks as well.
3. Contact them and ask to do Guest Post
This is an easiest way to get communicate and interact with top and famous bloggers. Go on popular sites then read their terms and conditions to submit a guest post. Always write unique and quality post that helps other to understand something.
4. Join them at Social Sites
Social Media Sites are proved to be a great way for chatting and innovating something new everyday. Most of us use Facebook and Twitter for fun, but they can even be used to improve your blogging connections among the top bloggers.
5. Get Professional
You have to to do work like an professionalism. Keep your blog update and you have to publish post regularly on your website. If you want that famous bloggers do interact and cooperate with you than firstly you have to develop yourself and your blog. Buy a good domain and work with full focus etc.
6. Link to other Blogs
A well-known and checked method to build a good relationship is to link to other blogs. If your blog is not popular yet, a person whose blog you linked will find out about you at least (its a fact that all bloggers are interested to know who link to their posts).
That's it! Have an Healthy relationship with top and famous bloggers in future! Enjoy and Please share this post as well.