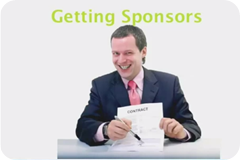 Finding/Looking for blog sponsors but no one comes in…then don't worry because its not only your problem as it is the problem of the whole blogosphere. Building a blog is easy but attracting sponsors takes a lot of efforts and results. Sponsors i.e Advertisers should only sponsor your blog or site if its conditions are good and satisfied which we will gonna discuss below. All you have to prove your blog unique and quality one. Lets find out.
Tips on How to Find Sponsors for your blog?
1. First of all Write minimum about 100+ quality and unique articles on your blog.
2. Now its time to Drive maximum traffic to your blog via Google Search, Social Media sites and Guest Posting.
3. Just be Regular in writing articles on your blog as to increase your Alexa Rankings daily. Note- Advertisers note Alexa a lot.
4. Shout/Award your blog with a Good Page Rank too.
5. Your blog should have a nice and beautiful looking design of your template.
SEE– Top 10 Premium Blogger Templates 2014
6. Optimize loading time of your blog and Don't make your blog as a fish of advertisements.
7. Build Social Media Networks and try to gain more popularity through it.
8. Concentrate on your Blog readers too much and always offers them free giveaways and help for life time.
9. Use Direct Email services to attract famous Sponsors on your blog/site.
10. Learn SEO and do well in SERP's with targeted keywords and links.
11. Show up your blog stats accurately as for ex- Likes, Subscribers, Followers, readers, Google + etc.
12. Lastly create an easy and nice looking Advertise page on your blog with full description of your price list.
13. Must Try BuySellAds.Com to automate your Ad spot selling in seconds online.
That's it for my side. Enjoy and Please Comment + Share this blog post as well. Good Bye!