Introduction.
In our days of cutting-edge technology, it's more than mandatory to have a web-hosting company backing you. The importance of a web-hosting in your company is superlative, it's a convenient way to keep your website running 24/7 and without error. That's the well-kept secret in successful companies running online, a good VPS company committed with the wellness of your business, keeping your online business all day online.
A VPS company usually offers domain service as well, and if you're needing one or the one you got is not working, a VPS company is the solution to that problem.
There are thousands of companies offering this service, but only a few have a good service. Among these thousands of companies, only a minority can make a well-done job Just Like HostSailor.
What it is HostSailor?
HostSailor is the last meaning of innovation and excellence in the VPS field. It has established itself in the market for its professional and committed group, which will be at your side helping and guiding you to achieve your goals. They are located in Dubai, United Arab Emirates and they have thrived due to its specialized services and top-notch product that are making some noise in the VPS field.
It counts with a reliable and experienced team of professionals totally engaged towards its customer' goals, and its idiosyncrasy is to make its customer happy and successful. They are famous for its supreme attention to details and with an affordable price.
Features offered by HostSailor.
Its services embrace everything related with VPS, Dedicated Servers, Domains, SSL Certificated and more, with hundreds of benefits and advantages than others. Its servers located in Netherlands and Romania offer incredible fast connection speeds and with cutting-edge hardware to satisfy the hungriest memory requirements.
This company offer a cutting-edge DDoS Protection and Mitigation system, it can fight against every kind of threats. This single trait makes HostSailor hundreds of time better because you will be completely protected from any digital enemy.

In terms of security they Count with the latest trends in that field, preventing your business From Being vulnerable from hackers and thieves. With a solid and cheap encryption in every range of plans, your website and customers will be safe.
Plenty of storage with an affordable price.
Increase your revenues by giving your customer faster server speed and keeping it 24/7.
Technical support that solves all problems in no time.
Thousands of domain names and websites for an affordable price.
This company has virtual servers rather than shared servers, which are safer, solid and leak-proof.
Scalable services to keep your VPS hosting growing at the same pace as your website.
Plans and Prices.
VPS Hosting: You have a decent repertory to choose from, with SSD or HDD storage technology. With different kinds of operating system-level virtualization for Linux and for Windows, you can choose between OpenVZ, Xen, and KVM.
The cheapest price is as low as 1.99$ per month on a hosting with Linux and OpenVZ with either SSD or HDD storage in both Romania and Netherlands servers.
Dedicated Servers: The basic package offered for a Romanian Server:
Intel Xeon E3-1231 working at 3.40 GHz with 8GB DDR3 of RAM.
1TB Enterprise SATA / 128 GB SSD.
Bandwidth 5 TB outgoing and free incoming.
IPV4 addresses 1 included and IPV6 addresses 64/48
Control: IPMI included.
Netherlands server:
Inter x3430.
4 GB PC3 RAM.
Storrage: 160 GB SATA.
Uplink 1Gbit
Incoming bandwidth: Unmetered
Outgoing bandwidth: 1 TB.
This is the cheapest price for a server located in Netherlands and costs 42.99$.
Domains: Domain registration starts as low as 6.19$.
SSL Certificates: You have a wide repertory to choose:
Symantec 269$ as the highest price.
Certum: 11.25$ as the lowest.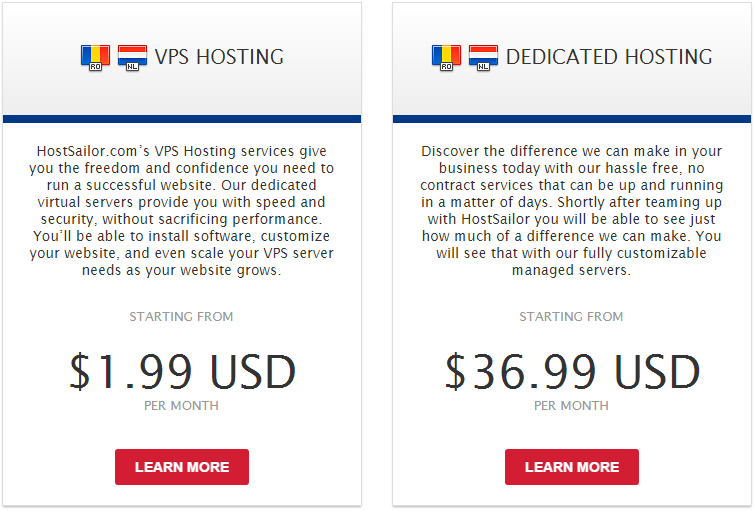 Verdict: Is this company for me?
HostSailor is the perfect solution to keep your server 24/7 monitored and online. They have a really wide repertory of prices which suits any kind of budgets, and that's probably the best part about this company because they are committed with both, start-ups and fully established websites.
Its scalable plans allow you to pay according with how much you're growing, keeping your expenses low and with a total control of your finances.
On the other hand, if you want to start a website, HostSailor can offer with a name to strike attention on the internet and representing the face and values of your company.
You're fully covered with this company because if you're struggling with your website's security, it can provide you with the best SSL Certificates to keep your data and client's data safe and bullet-proof.
If you want to grow and achieve your goals, HostSailor is one of the best Companies out there to keep your website online, and giving you more time to invest in other areas of your business, let the dirty and annoying job in hands of professionals.
HostSailor offers high quality VPS Hosting with top notch support and impeccable reputation. Affordable domain name registration, and SSL Certificates.