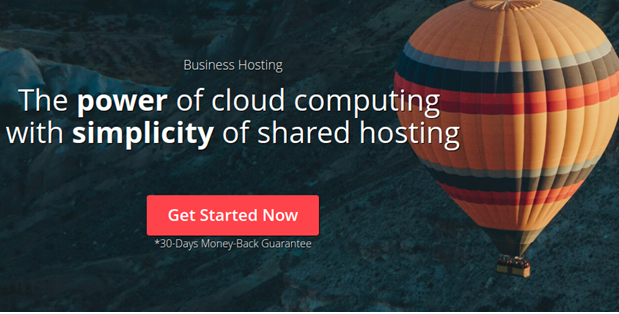 If your website has started getting thousands of hits every day and your sales have increased too. The time has come to extend your site, add new features, launch marketing campaign so that you can bring in more traffic and continue generating good sales. However, there is a problem, you shared hosting plan is not enough proficient to fulfill these demands.
Adding new features, enhancing traffic requires an upgrade in your hosting for sure. So, what's the solution? Previously, switching to dedicated hosting was the only option for high-traffic websites that was not only expensive but also difficult to manage, especially for newbies. Luckily, today business hosting is an ideal hosting solution to upgrade the hosting power without bearing the high cost of dedicated hosting.
Unfortunately, finding the right business hosting provider is a tough job.
Seeing the demand, every hosting provider is coming with the business hosting and it is difficult to know which is good and which is bad. We see, most often people settle down on the first choice comes in front of them which is not always the right way. To get a good hosting provider, it is necessary that you carry out adequate research before finalizing the one that fits your requirements perfectly.
To make it easy for you today, we are going to shed light on the business hosting service offered by a well-known hosting provider called Hostinger. The company is already a popular name for shared hosting. Let's find out how they stand in business hosting service.
Pricing Structure
Hostinger offers 3 plans under its business hosting service, designed to cater different levels of needs. Let's take a look at their features and pricing.
Business Startup
This is the basic plan starting at $15.90 for a month when you buy it for 36 months or more. If we talk about the features, it offers 40GB of disk space, 3GB of RAM, and 2 CPU cores. Whether you want to host multiple large-scale blogs or websites, this package would be sufficient to accommodate your needs.
Business Professional
This plan has been designed to cater the needs of high-traffic sites. For instance, eCommerce website. With this plan, you get 80GB disk space, 12 GB RAM, 4 CPU cores and 2X speed boost. And if we talk about cost, it will charge $31.80 for a month.
Business Enterprise
This is the most premium plan with which you get 160 GB disk space, 12GB RAM, 6 CPU Cores, 3X Speed Boost. This plan costs $71.55 for a month and can accommodate all types resource-heavy sites and projects.
Additional Support You Receive
Regardless of the plan you choose, Hostinger business hosting offers you features like dedicated resources, uptime monitoring, one-click-installer, daily backups, control panel access, 24/7 live support and SSL certificate. Let's know about these features.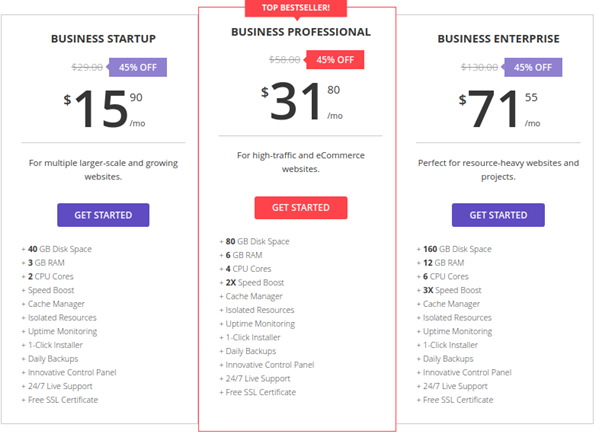 Pros of Hostinger Business Hosting
Free SSL Certificate
SSL certificate is crucial for any website that uses any kind of sensitive information of users such as credit card information, personal details via login credential, etc. Fortunately, Hostinger free SSL certificate by default for all their business hosting plans.
Free Domain Name
Hostinger business hosting offers a free domain name with all annual plans that you can use for your site, blog or email account. They also have a domain checker tool that lets you check the availability of your desired domain names and also help you find unique domains. At Hostinger, you can get domain names of different extensions such as '.com' , '.net', '.org' , '.online', '.tech', etc.
Control Panel
All Hostinger business hosting accounts come with an innovative control panel that offers enough ease to manage a website and domain. It houses all important tools in one place so that you can take a complete control over different aspects of your site. The provider says they provide a custom made control panel that lets you manage your server with the highest efficiency.
24/7/365 Support
Customer support is a big concern for most businesses. Hostinger business hosting offers premium customer support via live chat support. Their support team is available 24/7 to assist you. Apart from Live support, there are many other mediums that you can utilize to get answers to your queries such as ticket support, Knowledge Base, Tutorials, and blog.
Ecommerce Ready Hosting
With Hostinger business hosting plans, you can run eStore with any kind of eCommerce scripts like WooCommerce, ZenCart, osCommerce, Magento, PrestaShop, etc. Their hosting service comes with features like cache manager, speed boost, dedicated RAM, CPU and SSD Disk Space that increase processing power and give you additional memory so that your eCommerce site can run fast and smoother.
Even if your online shop is receiving the international traffic you won't find any issue with speed and performance.
30-Days Money Back Guarantee
This is the biggest advantage you get when you sign up for Hostinger. All their plans are protected by 30-days money back guarantee. They say, if you don't get satisfied by their services within 30-days time period, they will refund you instantly without asking a single question.
Built-in Caching System
So that your visitors can get the best experience, Hostinger supports an integrated caching system that gives your online store quick loading in all types of browsers. This way, it also helps in enhancing search engine ranking because fast websites often get good ranking in search engine results.
No-Hassle Scalability
Upgrading seems quite quick and easy at Hostinger. They say they have dedicated team that takes care of growing needs of your site. You just need to make few mouse clicks and they will upgrade resources like disk space, RAM in no minute.
Should I Go for Their Business Hosting?     
We didn't find any reason you should hesitate trying their business hosting. Hostinger is a renowned name in the industry which has been offering a wide range of hosting solutions since 2004. Today, Hostinger network has more than 29 millions customers in 179 countries. Every new day the company is receiving 5 thousand new signups.
Such huge customer base simply defines that the company is reliable and people are liking their services. In addition to this, the company is an ICANN accredited registrar which means the company has a strong financial base and reliable platform to buy hosting and domain names.
As the company is offering a lot of features at an affordable price, you may go for it without any doubt.