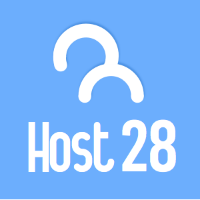 We have developed a comprehensive review on Host28 web hosting quality and customer service to make clear whether this company is reliable and worth going. Since it was established 10+ years ago, Host28 is dedicated to offering Linux web hosting service. To work out this review, we have read all the information on the company's official site and a great number of real customer reviews on the web.
Before learning the details about Host28 hosting service, read the following list to have a brief understanding about this company.
Data center location: Chicago, Illinois
Server: brand-new Dell servers
Control panel: cPanel with Softaculous
Price: $2.49 per month
Website: https://host28.com/
Host28 Web Hosting Price
Host28 launched 3 Linux shared web hosting solutions named as Basic, Advance and Business, which are respectively starting at $5.99/mo, $7.99/mo and $15.99/mo. However, people who make a subscription now are able to get a huge discount and cut the price down to $2.49/mo, $3.99/mo and $9.99/mo. Each of the packages comes with monthly, semi-annual, annual, biennial and triennial billing cycles, so people can choose a plan with an appropriate billing cycle according to their current needs and budgets.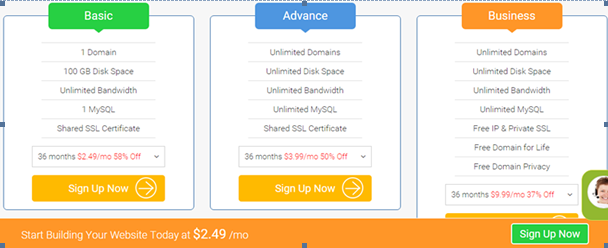 No matter which plan people choose from this company, they are able to pay for their plan via both credit cards and PayPal. In addition, if they are not satisfied with the plan they get, they can upgrade it whenever they need. Besides, they can also terminate their accounts and ask for a refund within the first 30 days.
Host28 Basic Features
Each Host28 web hosting plan comes with multiple PHP versions, Perl 5.10, MySQL 5.5, Python 3.2 and PostgreSQL, so they are 100% compatible with the most popular PHP-based applications. In addition, all the plans include an enhanced cPanel that comes with many user-friendly tools helping webmasters manage websites, domains, emails, files and databases easily. Besides, there is a Softaculous 1-click script installer integrated with cPanel, with which customers can install and uninstall 310+ software with just a few clicks.
In addition, no matter which plan people purchase at this company, they are provided with unlimited bandwidth. Moreover, people who choose the Basic plan are offered with 100 GB disk space and allowed to create 1 website on a hosting account. However, customers purchased Advance or Business plan can get unlimited disk space and create unlimited websites on a single hosting account.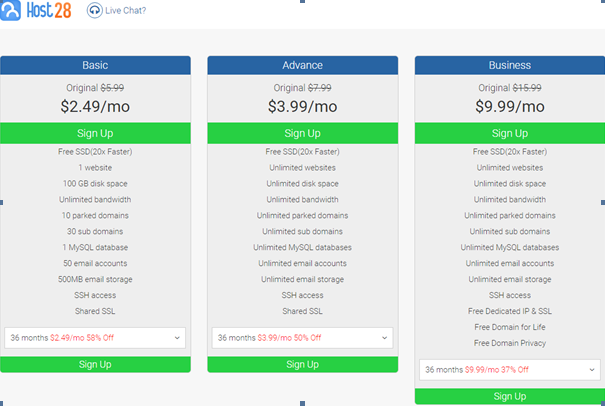 Host28 Hosting Security
With the enhanced cPanel Host28 offers, customers are able to backup their websites frequently and restore websites whenever they need. Besides, each package comes with 30 days of auto daily backup and SSH access. Moreover, both Basic and Advance are featured with a shared SSL certificate, and Business plan includes a private SSL certificate.
Host28 Data Center
Host28 utilizes a state-of-the-art data center in Chicago, Illinois, which is equipped with tens of thousands brand-new Dell servers that come with more than 32 GB RAM and RAID with SSD. In addition, Host28 uses 2N UPS, BGP connections, 1.8 MW of critical IT power, Static Switch PDUs, N+1 power and multiple communication pathways. Also, CloudFlare CDN service is used to offer faster hosting performance.
In addition, to offer a secure hosting environment, stationary offers are monitoring the data center and servers 24 hours a day and 7 days a week. They use key card access, biometric access, man-traps, stationary cameras. Therefore, no matter when any issue happens, they can find and resolve it immediately to ensure hosted websites run smoothly and securely. According to our survey, Host28 customers are highly happy with the uptime and speed they get. Most of them said that they could run their websites with 99.9% uptime and really rapid loading speed.
Host28 Customer Service
Host28 offers 24×7 customer service via email, ticket and live chat. Their support experts are well-trained, professional and patient, having at least 5 years of Linux web hosting experience. Therefore, no matter when people have any issue about their websites, they can contact the support team and get instant answer. Besides, technicians have developed many useful tutorials to teach people how to deal with some common issues independently.
Also SEE- How to Choose Best Web Hosting
Conclusion: Host28 Is a Reliable Linux Web Host
From the aspects we reviewed above, we can learn that Host28 offers multiple high quality web hosting plans with low rates, rich features, useful tools, good uptime and fast speed. In addition, their support team does provide responsive assistance to help customers concentrate on their businesses without being distracted. Therefore, Host28 is a good option for people who are looking for a reliable Linux web hosting plan.
Established in 2001, Host28 offers the best web hosting service coming with cPanel, Softaculous, and full SSD services, starting at $2.49/mo.