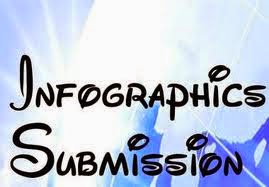 Well Infographic is just a visual representation of information or data, for e.g as a chart or diagram etc. In this article, I am going to write on Top Best High PR Infographic Submission Sites list of 2014, in full details. Now a days People are looking for Infographic Submission Sites to Submit their created Infographics in order to get traffic and exposure as well. By submitting your Info Graphics there, you will get a free dofollow backlink also. This will helps you to increase Page Rank and Boost in SERPS. That's why you will never ignore the importance of Infographics in today's world. Note- If your infographic is interesting and eye catching enough you will get massive traffic to your blog or site in less time.
So these showcase infographics websites are the great place to expose your talent and make money too. People who doesn't know the language or words and numbers, they can easily understand the language of picture and posters easily. In other words, just like actions speaks louder than words, similarly picture describes more than words as well. So here is the top list of great Infographics submission sites to submit your infographics for free of cost and goes viral in 2014. Have a look but first starting with the definition of infographics below.
Also SEE- How to Recover your Blog from Google Penguin Update [Infographic]
What is Infographics?
As per Wikipedia, Infographics stands for Information graphics or infographics which are the graphic visual representations of information, data or knowledge intended to present complex information quickly and clearly. It's an great way of representing your post into pictures to your audience. Now with this, your power of understanding any topic must increases and you will be enjoying too. In other words, Infographics are a fun and quick way to learn about a topic without a ton of heavy reading. The best infographics may look like they were simple to create in Photoshop and other photo editing softwares. Well Infographics bring things at glance and make the data easily understandable etc.
Benefits of Submitting Infographic to Infographics Submission Sites
1. An Quality dofollow backlink with anchor Text enabled.
2. Lot of Exposure and Relationship
3. High amount of Traffic coming to your Blog
4. Increase in Domain Authority and Google PageRank
5. Boost in SERPS and SEO as well
6. Make Money Online too with your Skills!
List of Top 10 High PR Infographic Submission Sites 2014
Note– Some submissions are moderated and approved by the showcase sites owners. Also Registration are required at these sites. No Instant live links are guaranteed. Here is the High Pagerank Infographics Websites List.
1. http://www.flickr.com
2. http://www.mashable.com
3. http://www.reddit.com/r/infographic/
4. http://www.visual.ly/
5. http://www.infographicreviews.com/
6. http://www.chartporn.org/
7. http://www.coolinfographics.com
8. http://www.visualising.org
9. http://www.good.is/infographics
10. http://www.dailyinfographic.com/
How to Get Listed and Get Links from these Infographic Sites?
First of all get yourself register to the above mentioned website and make an account there.
2. Now its time to confirm the email and get started.
3. Hence click at the Edit Profile button in the Settings Page.
4. Therefore Now fill all your Bio data including your name, about, DOB and most important one is Website URL.
5. All Done! Now share your Infographics inside that showcase and interact with other people.
That's it! Your Infographic is now Live and ready to Go Viral. Share it at your blog, Facebook, Google plus and Twitter for more exposure. Best of Luck! I hope these High PR Infographic Submission Sites will definitely helps you in attaining more traffic, exposure and SEO to your blog. Enjoy and Don't forget to Comment below.