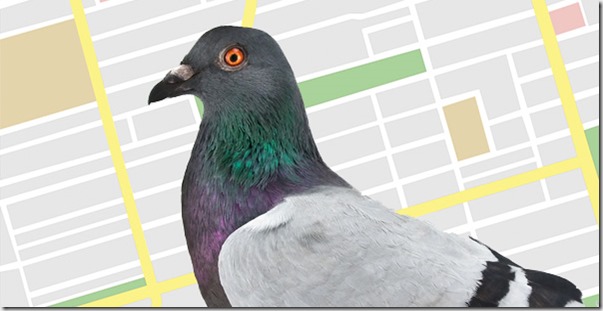 Well Google has just released another new algorithm named as Google's Pigeon Update 2014 aims to give more preference to Google local search results and business. After Panda and Penguin, its time for Pigeon Update. Last Night, The update has been pushed out to United States English based search engine results and likely to have enough of a significant update that many SEOs, webmasters and local business owners have taken noticed. Now Google shows more useful, relevant and accurate local search results than previous along with Google Maps search results and Google Web search results etc. So lets learn more on this Pigeon Algorithm Update and How it works?
What is Google Pigeon Algo?
In simple words, all we can say its An algorithm for the local businesses or websites etc. Currently the update was only rolled out to US English results, and so far that's about all we know. From this update, Local directories seem to be getting the most out of this. Therefore More local results will be added at the top of the SERP's as compared to before. Well its not that good news for small business owners as they have to work even harder in order to get to the top in Search engines. The Pigeon Algo brought these changes in Google as mentioned below:-
What Changes did Google Pigeon Brings to SEO?
1. Improvements in the distance and location raking parameters. That means Now Google will be using the exact location of your business into its search results more than ever before.
2. A boost in ranking of local directory sites like Yelp, Zagat, OpenTable, TripAdvisor etc, causing the individual locations to not appear until the second page etc.
3. Google Maps added a scroll bar to its search results just days before the Pigeon update was released and many more.
4. Although Local Business or Websites (nearby location) will give more preference than others with Google Maps and many more benefits.
5. Google Pigeon brings up the Big Change in the way that synonyms and misspellings will be used etc.
Note– Check the above image results after Google Pigeon Update happen.
How will it Affect Local Businesses?
In a last past week, many webmasters noticed the change, especially Local Agencies and Local Directories Owners. Via a Recent Review or Local Survey, We have concluded this below-
If Google Pigeon pushes forward rating sites such as Yelp, OpenTable and TripAdvisor, chances are it will be at the expense of smaller websites or blogs.
Large directories will have more benefit more than small individual locations.
As a result of recent happenings in the local search result rankings, some local businesses may notice a change in their web site referrals, leads and overall profits.
Local Web Owners have to work harder to maintain/increase their backlinks and Social Signals SEO to overcome this situation.
Conclusion:
I hope all of you now better understand this Google Pigeon Update and Why Google Brings it in 2014! Hence We don't know when Google plans to roll Google Pigeon Update out to other countries, Thus hoping the details will come soon and we will keep you updated very soon.
If you are an agency/Company representing local businesses, or a local business yourself, let me know the changes you have noticed as a result of the Pigeon update in the comments section below. Enjoy and Don't forget to share this blog post with your local friends. He He…