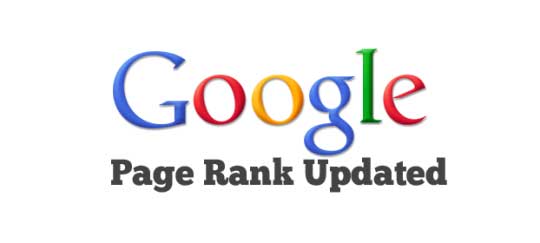 There's a surprised update on today, we certainly lost all the hopes to see an PR update, and silently Google started rolling out a PR update (6 Dec 2013 today) just before the end of the year as a Christmas gift. Many Bloggers recently noticed their increment and decrements in their Page Rank, but for Blogging Ways…Its a Disappointment as we are still on PR 1 (no ups down). Google itself says that traffic is not concerned with Pagerank but Some How Some where its has his own importance. Nobody was expecting a PR update from Google this year ? and there's Matt Cutts also tweeted sometime back like he will be surprised if there is a PR update this year. Therefore its totally a shocking news.
Matt Cutts Tweeted about Google Page Rank Update-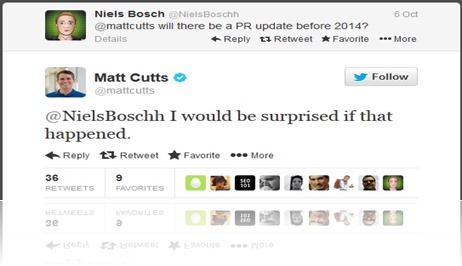 In case if you don't see any Page rank fluctuation for your blog or site, don't worry and lose any hopes! This happens to many bloggers online and still no update/increase in their Pagerank too with this Google PR update on Dec 6 2013. Here is a video by Matt Cutts, where he talks about Why isn't my site Page rank updating:- Must Watch…

How to Increase Google PageRank fastly?
Well the main factor is just concentrate on quality backlinks and read further article to get hands on it-
1. 8 Tips on How to Build Penguin Safe Backlinks in 2013
2. Top 15 Great Tips for Increasing your Blog's Google Page Rank
3. Top 10 PR9 Sites to Increase Page Rank Fast
I hope the above articles may definitely help you in increasing your PR fast. But there is a fact that we still see and in the coming future that quality links are more more important than the huge quantity links. So try to get them mainly via Guest Posting and natural link building! Also I think Google is soon going to close or shut down the phenomenon of Page Rank or ranking sites with higher number of backlinks in their SERPS. So my suggestion is that to build your blogging community online, have good readership and Social media signs must rocks etc.
Final Conclusion:-
Its second Page rank update of 2013, Last update was in Feb,, everyone saying PR is dead but its now back …. The business of Link Buying, Selling, paid posting is back …. #?pagerank
After checking Page rank of more than 100 sites, here is quick review
Many New Sites get PR1-PR3 (even without backlinkings)
PR dropped of many sites which was PR2,PR3
PR Improved of only few sites