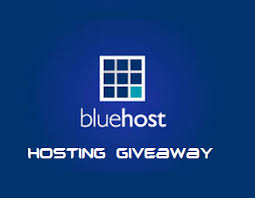 Looking for free BlueHost Web Hosting for starting your Business, then you are at very right place as today Blogging Ways going to announce its 3 very successful Giveaway on "Win 3 BlueHost Accounts with 1 Year Shared Web Hosting Free". As you all Knows that Bluehost is one of the best and leading companies in providing Web Hosting and Domains since 1996. Daily I am receiving tons of email about offering free Hosting Accounts, that's why I decided to open this Bluehost Giveaway Contest. I hope this time you will rock this giveaway and get your free Bluehost accounts from me. Here I am specially talking about those people who can't afford Bluehost Hosting and they must participate in this free Giveaway to save almost $3.95 per mo. Therefore below are some instructions on How to Participate in this Contest and Increase your chances of Winning! So please see carefully but first have a look at my Personal BlueHost Review.
BlueHost Key Features :
Unlimited Domain Hosting
Unlimited GB Hosting Space
Unlimited GB File Transfer
Unlimited E-mail Accounts
Free Domain
Free Site Builder w/ templates
Secure Shell, SSL, FTP, Stats
CGI, Ruby (RoR), Perl, PHP, MySQL
$100 Google Advertising Offer
24/7 Phone, Chat & Email Support
How to Participate in this free Bluehost Giveaway 2013?
Well To participate in this Giveaway, All you need to complete one of the thing mentioned below-
1. Write/Post an Complete Review of my blog on your Website (Recommended)
2. Get Listed in our Email Subscription
[fb-optin-form]
3. Like Blogging Ways Page on Facebook
4. Follow Us on Twitter and Tweet!
6. Follow BW on Google plus and +1 Posts
5. Post an Comment below on Why you Like Bluehost and How will you get it?
That's it! Completing one of the offer above may register you as a participant. Note– Completing all or most of the offers will increase your chances of winning free premium Bluehost Accounts with 1 Year Web Hosting worth $3.95 per mo.
Special Deal: If you want to directly get Bluehost Hosting without participating in this Giveaway, then We will have Special Link to get everything almost 50% off.
Click here to Get 50% Off BlueHost Web Hosting
Other Details-
This Giveaway Ending date is 25th of August 2013, So what are you waiting for? Hurry up and Increase your Chances of Winning free BlueHost Accounts! Till then Blessing…
Update- Winners Announced!
1. First Winner- Tony
2. Second Winner- Sumit Dadwal
3. Third Winner- Any Shaw
Note– Bluehost Account Login Details with 1 year free Hosting are sended on their Emails. Enjoy BlueHost and for those who didn't Won, Never Lose Hope and Keep Participating always…Next Giveaway is on Way!