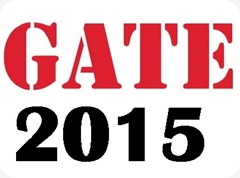 GATE Exam Results 2015 Declared on March 12, 2015- Are you all waiting for Gate Exam Results 2015, So cross your fingers as Gate 2015 Results to be declared out tomorrow on 12 March 2015 at 5.00 PM at Official Gate http://gate.iitk.ac.in/GATE2015/ website etc. So lets know more on Gate and steps To Check Your B.Tech Gate 2015 Results. Note- Hence the candidates are very much eagerly waiting to know their rank for the Gate Exam. While, this is the entrance exam for the IIT's and its numbers will also be useful in PSU and Government jobs as well.
What is GATE? Importance of GATE Exams
GATE stands for Graduate Aptitude Test in Engineering. As per Wiki, GATE is conducted jointly by the Indian Institute of Science, Bangalore and the seven Indian Institutes of Technology (Bombay, Delhi, Guwahati, Kanpur, Kharagpur, Madras and Roorkee) on behalf of the National Coordination Board – GATE, Department of Higher Education, Ministry of Human Resources Development (MHRD), Government of India. You need to hold Bachelor's degree in Engineering from AICTE approved university/college to eligible for GATE 2015 Exams.
Result and Test Score-
Usually GATE results are declared about 1 month after the examinations are over. The results show the total marks scored by a candidate, the GATE score, the all-India rank and the cut off marks for various categories in the candidate's paper. The score is valid for 3 years from the date of announcement of the results etc.
GATE 2015 Exam Results Declared Announced- Cutt OFF
Now Check out your Graduate Aptitude Test in Engineering Marks by entering your Name and Roll No. below from the given link. Thanks!
Currently, GATE exam is not merely an entrance exam for the IIT's but also the best path to get through into PSU jobs. GATE scores are indeed very useful to get a secured job into PSUs and Government sectors. In recent times, GATE scores are also considered by several Indian public sector undertakings which are government-owned companies for recruiting graduate engineers in entry-level positions. Some of the companies which will be accepting the GATE 2015 scores include Bharat Petroleum Corporation Limited, Bharat Electronics Limited (BEL), Bharat Heavy Electricals Limited (BHEL), National Thermal Power Corporation (NTPC), Power Grid, Hindustan Petroleum Corporation Limited (HPCL) and many more.
Graduate Aptitude Test examination Result 2015 Online:- Almost 12 lakhs people have appeared for the Gate 2015 exams and now waiting for their result which is going to declared tomorrow, please follow the below procedure to check your GATE scorecard.
Steps on How to Check Your Gate 2015 Results
First of all Visit the official website of IIT Kanpur
Search of about Gate Exam 2015 Results
Click on the link, a new window tab will appears
Now Enter your Date of Birth and Registration No. correctly & Submit
Then, results are shown up on your screens
Therefore now Download or Save as Desktop or take Print out results.
That's it! its Easy and Very Simple to do it. Now you don't need to go to the Internet Cafe or take help of Mobile SMS etc.
Download/Check your GATE 2015 Results – Visit Here
Best of Luck!
Please comment below if you have any doubts or questions regarding your GATE Results and also Keep Visiting here as we will be updating this article continuously with recent GATE Exam Results Online News.