Building an appealing and effective Amazon store might seem as a real pain without the appropriate experience or knowledge. However, this task is immensely easy to tackle with Fresh Store Builder. This platform allows anyone, regardless of their experience, to create an Amazon store from scratch. The process is so simple and intuitive creating an Amazon store has stopped being a major struggle. With its countless features and user-friendly interface, Fresh Store Builder is definitely a must for every new entrepreneur.
What is Fresh Store Builder?
Well Fresh Store Builder is the worlds most advanced Amazon Associates tool available, but you get more than just software because it has truly wonderful features listed below. They are a small team of dedicated and innovative people who love creating the software which has helped people like you create beautiful and profitable Amazon stores for over 6 years.
Features of Fresh Store Builder:
Your Product, your Content
As you might already know, content is everything when you´re trying to sell something. This is why this Affiliate Store Builder allows you to manipulate, edit, and add all the content you desire. You will be able to add pages, articles and edit information of your product immensely easily.
How is my product doing?
One of the most important features you will be provided is performance reports. You will basically be told how well (or badly) your products are doing. Variables like the amount of visits, the amount of clicks, and the amount of times a product is put on the cart are just some of the many you will see when using Fresh Store Builder.
SEO
While it is true that you will have to bear in mind the ranking of your product on the search engine, the platform will take care of optimizing your store for SEO.
90 day cookie
Not only will you get revenues for the product that you sell, but you will also earn commissions each time a user enters you store and proceeds to buy something on Amazon within the following 24 hours. Now the interesting part is that Fresh Store Builder will automatically add your products to your visitors' carts. Now every time someone adds a product to their cart with your affiliate link a 90 cookie will be allowed.
You don´t need manual updates
Every time you update something on your store, it will be automatically updated on Amazon without you having to do it manually. You will never have to enter Amazon to update any of the products that are on your online store.
Easy design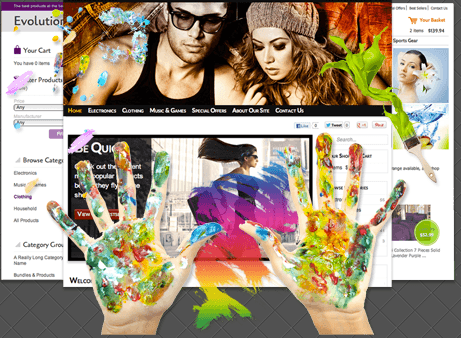 Do not worry if you have absolutely no knowledge of coding and website design. Fresh Store Builder will provide you with an easy and intuitive way to edit and modify the design of your online store without having to handle complicated and annoying codes.
You will be able to edit the skins and themes of your store as if you were editing your Facebook timeline. This is a perfect way to attract more customers to your store.
Customized Searches
When your customers are shopping in your store, they will be able to filter and sort your products by category so that they can find what they are looking for more easily.
Speed is not a problem
No matter how good your store or products might be, if you page does not load quickly your customers will not buy a thing. That´s not a problem with Fresh Store builder though, for your online store will run smoothly without complications.
How it Works?
Now Choose your preferred store niche e.g. etc and start building your brand new Amazon store using Fresh Store Builder. Pick up your design, add any products you want and, when you are ready to show the world, set it live! They also give you the video training and step by step guides to show you how to properly research your niche, choose the right products, customize your store and everything in between.
You simply need a free Amazon Account to receive your earnings , As Fresh Store Builder to create your stores and the ability to follow our simple step by step guides to success.
You can find a lot of other Fresh Store Builder reviews on the official website.
How much profit can I make?
Our members regularly report earning from $1000/month to over $15,000/month and more… paid direct into their bank account or Paypal. See the below screenshot showing $500/day earnings inside one of our members Amazon account:

Pricing:
Order today and get unlimited stores for only $497 $97*

* Unlimited license previously sold for $497. Save $400 today and for a limited time only.
Conclusion:
With all this in mind, we can safely say that this is the perfect tool for entrepreneurs and sellers in general who want to put an online Amazon store but do not have the sufficient knowledge or experience to do so. Not only is the experience incredibly easy and intuitive for the seller, but your customers will also enjoy every second they spend shopping at your store. You will count with countless features that are provided to maximize your revenues and sell as much as you can. You can also contact Carey Baird who is the owner of FSB at Facebook. Thanks!
Your own Amazon stores the smart way with Fresh Store Builder. Profitable, easy to use and no need for stock, customers or any hassle!
Incoming search terms:
amongzeu
ants9iy
stepped7it
studentqfy