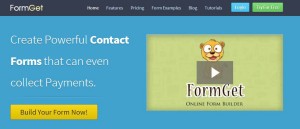 Are you looking for some online contact form builder to manage all your forms, pages etc, If Yes then wait till the post ends as today I am going to review FormGet: One of the best online form builder software for your blogs. Now with this, you can Create Powerful Contact Forms that can even collect Payments via PayPal. Actually FormGet is an online form builder company that helps you in building highly responsive and stylish forms as per your requirements. In other words, Web forms are the basic requirement of any website or blog in order to collect information about their users demands and more. Therefore all we need is simple form integration software/plugin i.e FormGet as to do our tasks very well without complexity. Hence lets know its features, why to use it and plans for your business in proper details. So Here is the Complete review of FormGet.
What is FormGet?
FormGet is an Easy Online Form Building Solution that comes with an easy form builder that allows you to create your form and then customize it and make it more stunning with the help of available options inside. The app is so simple to use even an newbie can create and integrate forms within seconds. Now You can also collect online payment (PayPal) via this form for your Business Purposes. Once your form is ready, share them with your friends and followers and start collecting data instantly.
Essential Features of FormGet:
(a) Create Varieties of Forms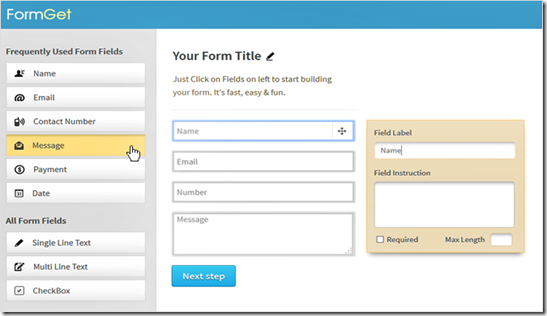 One of the best feature and main attraction of FormGet is it's online form builder. It's very easy to use and hence allows you to create your form without complexity and then customize it to make even more stunning with the availed options. With FormGet, You can create and manage all your forms from the most powerful and easy to use dashboard. Below are some of its tools.
1. Drag And Drop– Now just Drag and drop any required field to logically arrange it in the form.
2. Color Customizer– FormGet comes with a "WYSIWYG" design customizer that allows you to create beautiful form designs in a simple manner.
3. Premade Templates– Well FormGet has professionally designed pre-built templates.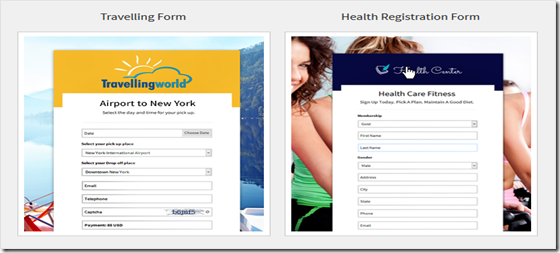 4. Embed Form– You can directly put forms on your website in a single step by coding HTML codes.
5. Auto-Responders– Auto Responders helps to get instant notification about the payments received or about new lead data.
6. Redirection– After filling the form, you can redirect your user to Thank You Page.
(b) Collect Payments via Forms
Now FormGet allows you to securely receive your payments from your customers. Just an one click PayPal integration and all done! Now, what's the need of wasting your money on buying gateways when you can easily receive your payments through a form indeed. This is the best option for your visitors as they don't need to take the trouble of visiting a new page/post to make payments separately.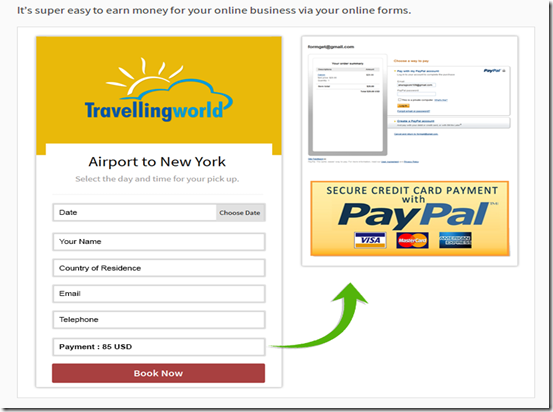 On the Other Side, PayPal that lets you to easily collect payment online within few seconds. So its best for the PayPal Merchants for their online business etc.
(c) Integrated Help Desk
Well FormGet comes with an fast, powerful and dynamic helpdesk system. You can do real-time conversation with your prospects with its instant messaging tool. So, if it's about solving out your clients issues, you can response them faster and quicker. Now You can also add your team members in this application and assign them to particular forms and categories etc. In my views, they have an excellent support to their clients and customers.

Some of its Other Features include-
Easy Form Builder
Payment Collection
Email Notification
Logic and branching
Upload files
Advanced analytics
Spam prevention
prebuilt templates
user management
Built-in Help desk
Delegate messages
Custom Branding
FormGet Intro Video:
FormGet WordPress Plugin:
Unlike Others, FormGet also comes with an great WordPress Plugin named as FormGet Contact Form. This WP plugin create and manage all your contact forms by simply drag and drop the form fields. FormGet Contact Form is very useful contact form building tool which enable you to build and embed contact form on your website/blog in few simple steps. Select your form fields, configure your options and easily embed contact form on your website by just a paste of Tabbed Widget code/shortcode. You do not need any programming knowledge or other skills to use this FormGet Contact Form plugin.
Type of Forms Supported by Plugin
Contact form, Feedback form, Helpdesk form, Booking form, Consultation service, Contact form, Mailing list form, Survey form, Job application form, Workshop registration form, Bug tracker form, Newsletter sign up form, Wedding planner form, Invitation/RSVP add invitation to the product demo form, Online orders form etc.
So What are you waiting for, just grab and install in now in your WP CMS from the below link. Its free to use…
FormGet PRO Pricing:
If you want some extra features and tools from other simple users, then you have to upgrade to FormGet PRO Account at paying some extra bucks yearly.
All paid plans include these features:-
Unlimited Entries
Unlimited Entries on Emails
Integrated Helpdesk
Form Autoresponder
Form Theme Customizer
Prebuilt Themes
Friendly Customer Support
Unlimited Form views etc.
There are total 3 plans available for the users such as Personal ($95), Business ($143) and Agency ($239). No need to worry about money as 30 day money back guarantee is there. I must recommend upgrading to Personal account by paying $95 to your online business and create unlimited forms with unlimited customization.
Conclusion:
So here's the Review ends and I think I have covered everything about this website. I hope now you will be like to use FormGet on your blog very soon. Note- A good form can get you more sales that directly increases your blog overall revenue. Now Do share your thoughts about FormGet plugin and its tools in the Comments section. Till then Good Night and Sweet Dreams!
FormGet helps you build beautiful forms online. Once your form is ready, share them with your friends and followers and start collecting data instantly. Now It Comes with even Forms that collect Payments also.
Incoming search terms:
FormGetReview:OnlineContactFormBuilder-BloggingWays