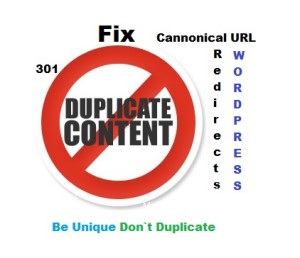 Is your blog suffering from Google Panda Penalties, If Yes then their might be reason of WordPress Duplicate Content issue. Many blogger doesn't know how to fix it for better seo results. I know WordPress is highly seo optimized but as default or without no good plugins it is just horrible. Well Duplicate content issue means Content which is exactly the same but can be accessed by two URL's of your blog i.e with www or non www. Google generally panelizes that blogs with this duplication issue so my recommendation is to please fix it asap. Here is my tutorial and all in one seo solution to get rid of it. Must See!
WordPress Duplicate Content issue –
Now here I will more explain you that what exactly WordPress Content Duplication issue is..? Well Duplication problem is nothing rather than two paths of a same domain url structure. Hence Google takes it very seriously and for example, on a poorly optimized WordPress blog articles can be accessed by :-
http://www.domain.com/SEO-optimization
http://domain.com/SEO-optimization
Now see you have created 1 post and Google thinks of post duplication which was found on 2 urls. That's why bots started to penalize your blog slowly in the SERP's. So fix it as soon as possible and hire some SEO consultant like me.
How to Find WordPress duplicate content
Just Google:- site:www.yourdomain.com in search engine and see the results. Now see all the links and browse till last page and tick mark results with omitted results. You will be able to see what all links Google have indexed from your blog/site and analyze what links Google should not index, I mean noindex and nofollow.
What includes WordPress Duplicate Content Issue:
There are many things that you should take care of while starting a blog. This includes Tags, Categories, Author posts, Archives, Search, Attachment Image URL, ReplytoCom issue, Canonical URL and article copied issues.
Fix for WordPress Duplicate Content issue for SEO
Now here is the most important aspect of SEO for better WordPress blog. All you have to do some settings or noindex above things in order to survive in search engines. Below are the methods to solve this duplicate content issue problem. Note- Just adopt one of these methods below.
#1. Robots.txt File
If you want to get yourself not in trouble so much then just copy paste some settings in your Robots.txt file as given below.
Sitemap: http://www.yourdomain.com/sitemap.xml

User-agent: *
Disallow: /cgi-bin/
Disallow: /wp-admin/
Disallow: /wp-includes/
Disallow: /wp-content/
Disallow: /archives/
Disallow: /*?*
Disallow: /category/
Disallow: /tag/
Disallow: /search
Disallow: /index.php
Disallow: /xmlrpc.php
Disallow: *?replytocom
Disallow: /wp-*
Disallow: /author
Disallow: /feed/
Disallow: /trackback/
Disallow: /comments/feed/
Disallow: /page/
Disallow: /comments/
Disallow: /wp-content/plugins

User-agent: Mediapartners-Google*
Allow: /

User-agent: Googlebot-Image
Allow: /wp-content/uploads/

User-agent: Adsbot-Google
Allow: /

User-agent: Googlebot-Mobile
Allow: /
#2. Install Essential SEO Plugins
The simplest and shortcut way to fix this issue it to use great SEO plugins like WordPress SEO by Yoast, All in One SEO or paid plugins like SEOPressor to automatically add those no-index" meta tags to all your tags, categories, archive pages. See the "SEO" > "Titles & Metas" settings page under the "Post Types" and "Taxonomies" tabs. To Solve Image attachment URL issue, visit Permalink Settings and then tick mark the option "Redirect attachment URL's to parent post URL".
For your copied article, just report to DMCA online.
#3. Theme Frameworks
Another Solution is that is to purchase or install some highly customizable themes powered by great Frameworks which has by default all the settings done. Like for example, Choose Genesis or Thesis.
Cheers! Comments are welcomed below.