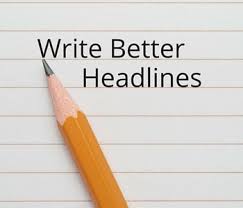 Even if you have the most powerful and hilarious text that internet has ever since, it will fail generating interest without a catchy title. In this busy, busy world, people use the title to decide whether they're going to read the piece or not. In the world of web, headlines are important for making both readers and search engines happy. People click on titles that make them curious and search engines index titles that are descriptive enough. It may fell like pleasing everyone is impossible but great titles do follow a couple of basic rules.
Did you know that you have eight seconds to grab the attention of a potential reader? The availability of tons and tons of information decreases the attention span of people and makes them less likely to pay attention to your content. According to Quick Sprout, eight out of 10 people will read headline copy but only two out of 10 will move on to explore the entire text.
A good headline is the perfect mix of creativeand relevance. Knowing your audience well, understanding the language that it feels comfortable with and being an innovator will all help you stand out and craft the titles that will differentiate your content from what the competition has to offer.
5 most important steps for the creation of killer headlines.
Do Some Research
Writing a text starts with an idea every single time. Think about how your text will benefit the audience, what these people want to read about. To find an interesting topic that nobody else has written about is a mission impossible in this day and age. Still, reading through similar text can help you get inspired.
Look for the ways in which certain topics have been covered. Is it possible to offer the audience a unique perspective, an angle that nobody else has covered?
Working on the title before you start writing the text is a great option for developing your idea. Sometimes, the combination of researching and brainstorming opens you up to the possibilities and produces unorthodox content that the audience simply loves.
Draft a Couple of Headline Versions
Play around with the original title. It doesn't have to be perfect – just present the first idea that comes to mind.
Use this working title to write the text. While you're working on the content, it's possible to come up with a sharper, funnier and more engaging title.
Sit down and create a couple of derivatives from the original headline. Allow yourself to get silly with those. Something that may seem ridiculous right from the start could eventually be turned in a title that the audience is going to love. Don't dismiss ideas – write everything down!
Use Active Voice
Strong adjectives, active verbs and even negative words attract users. Negative words activate curiosity and the protective instinct that we all have deep down inside. Positive words work too – people love stories about success and about active individuals that have accomplished something.
If your text provides answers, start with questions like how and when. In fact, "how" titles are the holy grail of copywriting and they do the trick every single time. Provoke the reader's interest with a statement based on facts, numbers or a recent study data. If you offer a certain number of solutions, make sure that the title lists the figure.
The more specific your title is, the easier it will be for people to decide whether they want to read the text. This is how targeted audiences are created.
Be Specific and Honest (and a But Humorous)
If your title promises to reveal Beyonce's five most shocking secrets, you better dig up and find five shocking secrets that nobody else knows about. Creating such titles without living up to the promise is the best way to alienate your readers. People aren't going to get fooled by misleading headlines more than once or twice.
Avoid clickbait title techniques if you want to create a loyal audience for your website or blog. Writing a text that truly fulfills the expectations of the reader is the only option for building a relationship that will stand the test of time.
Finally, if you don't have anything else, you should make the title funny. Humorous titles that are genuine and specific can be quite effective. If you manage to put a smile on the face of the reader right from the start, you've won half of the battle already.
Size (Alright, Length) Matters
The number of words and characters in a title matters. It affects readers (remember, they have a short attention span) and it also impacts search engine ranking. If your title is shorter, your text has better chances of being read.
While there is no proven formula for the perfect length of a headline, avoid titles that exceed 65 characters. According to Google recommendations, the title length should vary between 50 and 60 characters.
Every single headline you write should have a clear message and an unorthodox presentation. Knowing your readers is the best way to craft titles that will get noticed. The moment you come up with an insider's joke or something else that the specific audience will appreciate is the moment that you score a major point. Keep on working, be diligent and do your research – these efforts will soon pay off.