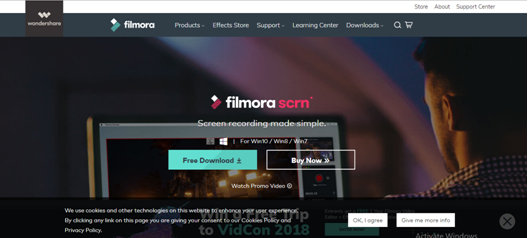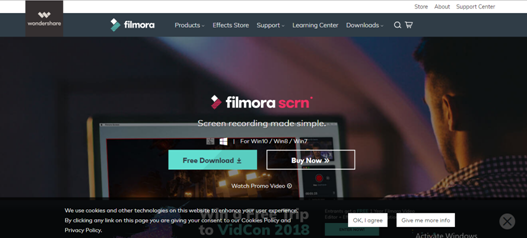 Nowadays there is various useful screen capturing softwares available in the market. They are advanced enough to capture the screen for an amazing video tutorial or just record your game session regularly. Wondershare which is already promoting its popular softwares like PDFelement, Video Converter Ultimate and Filmora, has integrated its screen recording software into the video editor to simplify the editing and recording process for the people, which is named Filmora Scrn.
If you try to get a random software to record your gaming sessions, then you will face problems in the editing department. Wondershare Filmora Scrn provides best solution to capture your screen and edit it in one place. It is a reliable and handy screen recording software which is creating competition in the market. Due to the plethora of advanced features, screen recording softwares are very difficult to use by the beginners but this software has lots of amazing feature for the new users.
Features of Wondershare Filmora Scrn:
Record up to 120 FPS:
Wondershare allows its users to record gaming session with video recording software at 120 frames per second. It is an advanced feature which is useful to monitor refresh rate greater than 60 hertz. It is helpful to record the fast paced games i.e. counter strike, overwatch, global offensive and battlefeld1 etc. After some post production work, it can be used to show the final footage in slow motion. So, along with high frame rate recording, this software allows the users to record at a low rate of 15 fps.
Audio capture:
If you have a microphone, then Filmora Scrn also allows you to record audio in addition to recording your face and screen. You can disable or enable this feature according to your choice but it is very helpful to do live commentary when you are explaining a stuff during recording a video tutorial.
Record webcam and screen simultaneously:
If you have a webcam, then Filmora scrn will help you to capture your face along with your screen. You can adjust the frame rate of the webcam and recording resolution on the basis of your hardware. If you are planning to upload your game footage or tutorials videos on YouTube, then this feature is very useful for facecam. The webcam and screen recording is displayed very effectively in "picture in picture" fashion.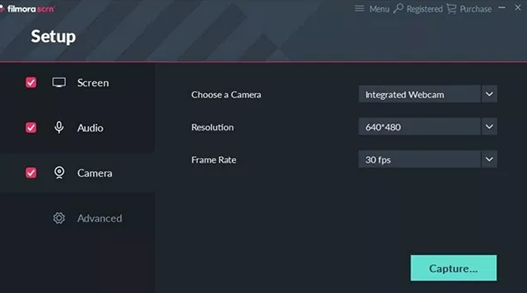 Build in video editor:
Just before uploading your video on social media websites, if you want to edit your final footage by adding some songs, annotation, cuts etc then build in video editor is a good option. Mostly the video recording softwares lack video editing capabilities but it is the standout feature of Filmora Scrn software.
Filmora Scrn will automatically export the recorded footage for editing after the recording session is completed. But if you want to edit your previously recorded videos, you can select the Video Editor at the Launching screen and import the video clips to the timeline to edit.
Besides the basic cutting, splitting and rotating features, Filmora Scrn also allows you to adjust the video and audio speed and add various video effects, annotations, callouts, and cursor effects, etc.
Add markers:
To identify the key moments of your recording, Filmora Scrn provides you an amazing feature to add markers to your video. Just by simply pressing M key, you can use this feature to identify a mistake which happen during recording a tutorial. You can also use the Markers during editing to boost your editing procedure.
Advanced setting:
Advanced setting of Filmora Scrn will offer you various encoding options to choose the quality level of the small video files. The video can be recorded in FastJPG or H.264 format with low, mid or high video quality. The setting of HotKeys will make the recoding stress-free and easy.
How to use filmora scrn for recording and editing videos:
Run the software after it is downloaded and installed from the website.
When the software is opened and running on your screen, you will see a window with two options i.e video editor and quick capture. To record the video, click on quick capture.
At the right bottom of the screen, you will see a small overly which has some basic settings along with capture button. The software will start recording the video once you will click on "start capturing".
The video will be directly transfer to the video editor after the capturing of video is completed. In video editor you can edit it according to your choice.
If you choose the export option then you can save the video i various formats i.e. GIF, MOV, MP4 etc. Now video is ready to upload on different platforms like Vimeo, twitch, Facebook or YouTube.
If you click on the video edition option, then you are allowed to edit the video according to your choice. The user interface is clear and simple to avoid any confusion. You can add music, add animation or trim the video.
After completing editing, you can click on export and create video to move it towards new menu.
The new menu will contain all output data of the edited video. After making the required changes, you can click on the export option to export the video.
Advantages of filmora Scrn:
It has a simple user interface.
It can record video upto 120 face per second.
It is best for the beginners.
For facecam, it has picture to picture feature.
It is easy to use.
It has a built-in video editor.
Disadvantages of filmora Scrn:
It is not very useful for advanced users.
It lacks advanced options at video editing department.
Price:
Conclusion:
If you compare various screen recording programs on the internet, then you will find many defects in them. Some are very complicated and some are very useless. To deal with these problems, Wondershare Filmora Scrn provides a best screen recording software with many advanced features. It is cost effective. This software is available at normal prices i.e.  $19.99 for one-year license and $29.99 for lifetime license. Wondershare is offering a best recorder for the casual users and gamers in the form of Filmora Scrn, so do not worry and use it.