Ezoic was founded by John Cole and Dwayne Lafleur. It is of the few Google Certified Publishing Partner that offers software optimization and an ad testing platform with an aim to maximize the revenues. Also Ezoic is the first Google AdSense certified partner headquartered in the US that helps sites increase AdSense earnings through layout improvement and many more. Moreover, They train professionals in Adsense, Doubleclick, among other Google Products. Hence you can increase your ad income up to 250% with Ezoic and significantly enhance the user experience as well. Therefore Today I am going to Review Ezoic and How to sign up and setup with that to Increase your Google AdSense Earnings etc. Have a look!
What is Ezoic?
Ezoic is a website improvement platform which allows your website to produce the highest possible revenues through advertising. Ezoic is also the only certified Google AdSense Partner that has its HQ in North America. Ezoic guarantees to increase your site incomes by a huge percent with their services, and their devoted client base of more than 1000 sites and 25 million plus users for oer month are the living testimony to the system's success.
It test and evaluate the different ads layouts over an unspecified time period. The layout with maximum revenue are kept until a higher earning layout is obtained – allowing your site to earn more and more constantly.  In order to achieve this you need to change your DNS record to Ezoic server and provide them control of your AdSense account.
Features:
Test Ad Positions – Ezoic entails more than 1000 ad styles and ad positions for websites. No matter how a site looks ezoic will automatically find the right ad position that work perfect for each device, page and user.
Mobile & Tablet Layouts – Ezoic test each ad layout on every possible device. It will automatically create the mobile and tablet version of the site and test the ad layouts on all devices to find the best.
Layout Testing – The ad testing features of ezoic allow individuals to determine which layout is best in order to enhance the user experience and drive the traffic. Over time the ad testing software tests thousands of ad variations and narrows down what works best for your site.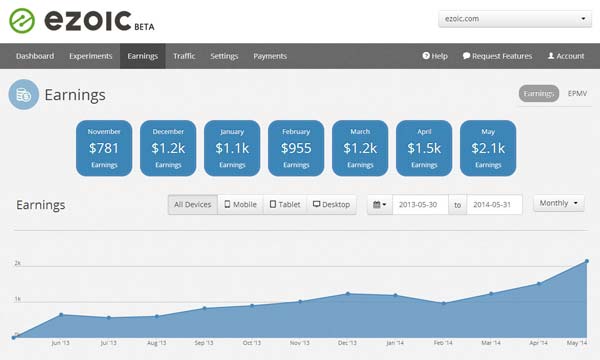 Boost Ad Income– After Ezoic Integration, now you can see a consistent 50-250% lift in the revenues vs previous earnings across the board for all sites. This is impressive when you consider we had a Google rep, a team of guys working on monetization, and dedicated a A/B Tester in-house.
Ezoic Ad Tester-
Well Ezoic Ad Tester is a superb way to do of A/B testing on your own version of your website or blog.  Trying Ezoic Ad Tester, you can create up to 100 ad units, locate them on your site, and let Ezoic test the different combinations of sizes, locations and colors to find what works best for each page of your website on each device. Now Ezoic will only display the correct number of ads on each page – so, for example, you can place 20 ad units on a page and Ezoic Ad Tester will display the best 5 etc.
All the publisher has to do is choose ad sizes and locations that they want to test. From there it will choose the best combinations of ads in order to increase ad income up.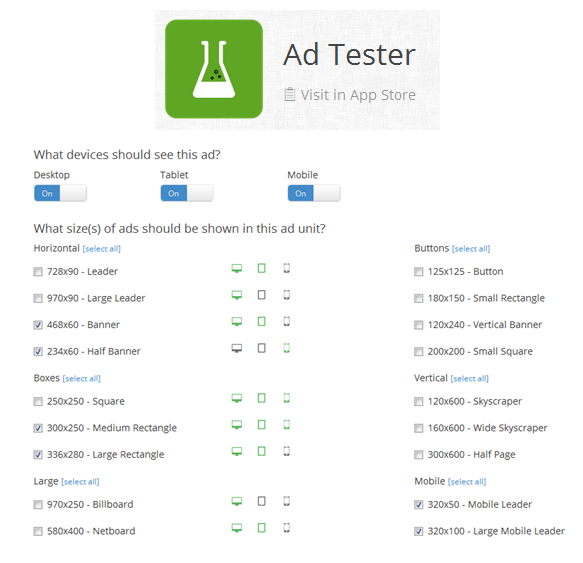 How to use Ezoic Ad Tester?
To do this, First of all
Go to http://www.ezoic.com/start.php to create an account and move ahead.
2. Now Copy Paste Ezoic Script and Put Script in the Header, then Setup Ad Testing and Create Ad Units etc.
3. After that, Place ad codes on your site and See Preview.
4. Lastly Turn on Ezoic Ad Tester and Analyse Everything to find out best.
Pricing:
Ezoic offer 2 pricing plans based on the following categorizes of the website.
Informational websites or blogs that make money from ads
Business or corporate sites ($19/month – including mobile, desktop and tablet versions with no ads)
All of the plans include a free trial of 30 30 days. User can upgrade or downgrade its subscription plan during their free trial period. There is no contract, no obligation or not any out-pocket fees. The users are free to come and go without any restrictions. Ezoic also offer a hassle free refund policy so a user can cancel its membership anytime and receive a refund for his remaining time. It's simple, safe and convenient as well.
Ezoic App Store:-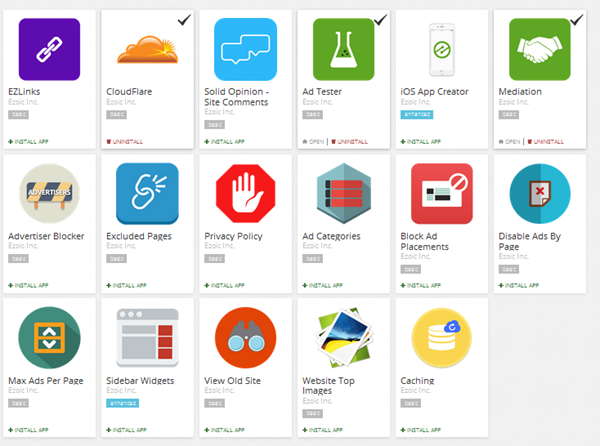 How to use Ezoic:
Using and integrating ezoic is not much technical. All you have to do is sign up for an account by using the link (http://www.ezoic.com/join) and after that point your website DNS to ezoic server. Once it is done, you can toggle Ezoic on and off instantly from your account dashboard.
Integrate your website with ezoic:
There are many ways to do this but the most simple and effective way is to begin with a cloud flare. The main benefit of using a cloud flare is that – it will make your site loading time faster. You can download the cloud flare from the app section and ezoic will work effortlessly.
Ad creation and Set up:
The next step is to create the ads for your website. There are thousands of ad units available at ezoic you can utilize them by going through the following steps:
Click + Display Ad Unit
Select an Ezoic Ad Preset 
Name Your Ad Unit
Choose a device(s) on which your ad will show
Choose relevant sizes for your ad
Click "Create Ad"
Copy provided code and place in your site where you want the ad to show up
Once you have applied the settings and integrated all the ad units on your sites using Ezoic, it will now automatically run through a multiple ad combinations to determine the best ads in order increase your earnings. You will always have complete control over your website's content – it's only the layouts that will change. You can also control the percentage of users who see new layouts at all times.
You continue to make changes on your own content the same way that you always have. Ezoic will test various ways of displaying your existing content (the way it's wrapped for each device for example), but it will not change the actual core content.
How do your receive payments from Ezoic?
Unlike AdSense which pays mostly through Wire transfer, EFT or Western Union, Ezoic pays you straight through paypal, Dwolla, check or Payoneer. The minimum payment threshold is $20.
Conclusion:
Ezoic is one of those rare services that possess universal applicability for genuine publishers in the modern age who crave of ranking better in search, providing an all-rounder better user experience and obviously amplifying advertising income. Ezoic has everything that would help you increase your website revenues and in turn a better website user experience, and as the only Certified Google Adsense Partner. If you have any doubts left, let me know in the Comments section below. Till then Enjoy and please share this post as well.
Ezoic is an great website ads testing platform that automatically improves a site's layout based on users' actions - on mobile, tablet and desktop. They offer informational publishers a must-have tool that makes scientific testing effortless. With Ezoic, one can Increase ad revenue upto 50 - 100%.
Incoming search terms: