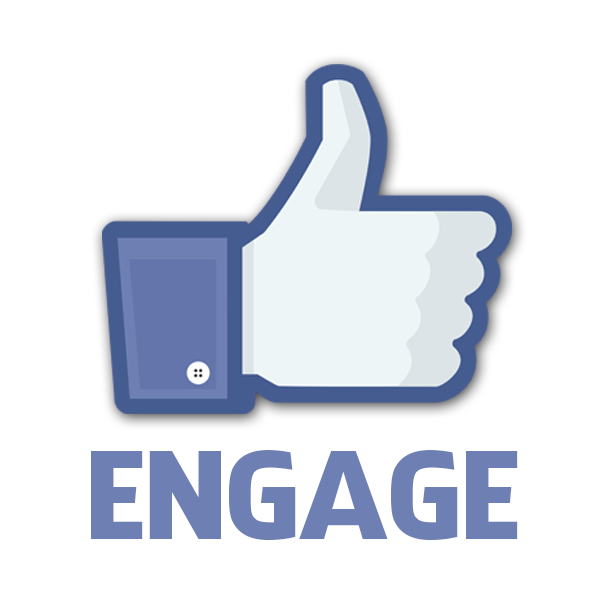 So are you running out of ideas on how to keep your fans hooked onto your page? Do you feel there is something missing in the way you approach your engagement strategies? You want to make it big, but somehow you aren't being able to make the cut? Well then, you have come to the right place.
Here we give you 10 simple yet effective DO's for your Facebook fan page engagement program. With a whooping 2 million active users recorded by Facebook in June 2017, I'm sure you would attract some good amount of supporters once you get your game right. Read on to know more and remember what Isrealmore Ayivor said, "Don't wait for what you don't have. Use what you have, begin now and what you don't even expect will come alongside with excess of what you expect. Go, make it happen."
HOW TO ENGAGE YOUR FACEBOOK FANS?
Acquire the trust of your followers
The people who follow your fan page do not know you in person. There would have been a particular interest match that led them to your page, and you sure wouldn't want to lose the traffic you gained. Thus, begin with trying to understand what the selling point of your page is. Build on that and offer content that lets your fans place their trust in you and your work.
Post as often as you can
This goes without saying that people will only stay hooked onto your page if you are regular with the content you put out for the public to see. No one likes to find one post per month from a particular page. Consistency is the key. At the minimum level, you should post at least one thing in 2 days. What might work best for you in your early days of gathering audiences is to keep posting at least once each day.
Ask relevant trivia questions
Even in a day-to-day conversation, the best way to start talking is to ask a question. The same logic applies for a fan page. Asking questions puts across the impression that you are genuinely interested in knowing their likes and dislikes.  Look out for the reactions you gather. This is the best time to get your word game going strong.
Keep your page up to date
You don't want your followers to keep looking elsewhere to find out details about you, right? Get your business strategy on its toes and then go ahead and squeeze out all the data you think your fans would be in search of. This gives them time to stay hooked onto your page, which in turn assists the Facebook algorithm to take it up as a trending page on its site.
Visual content is what you need
There is a reason when it is said that people tend to remember what they see than what they hear. Visual depictions form images in the brain which help relate strongly to a particular topic. Present your fans with pictures of your work, your lifestyle and any other category you deem necessary to be shown in your public outreach.
Do not goof up with the grammar
All said and done, you wouldn't want to end up making a mockery of yourself just because you didn't have time enough to proofread what you share on your page. The social media audience can turn into a cruel master if you do not keep check of the small details, especially if you are catering to a large audience. Thus make it a practice of thoroughly proofread each word of the content posted on all social media channels.
Go live
With Facebook's new feature of live videos, you are in the lucky decade of technological advancements. This is one of the best ways of directly interacting with your audience. Know what you are going to discuss before you start the video and that's all you need. This is also a good practice to realize how many people are actually active followers of your page. If you sense that the numbers are low, see where you are falling short and repeat the process.
Promote your top posts
For every post that gets an overwhelming response from your fans, make sure you post content similar to it. Recycle these posts once in a while to keep the traffic coming in to your page. Create content especially for your Facebook page. This gives a more personal feeling to your outreach.
Reply to comments
Quite often we seem to ignore the power comments can have on directing traffic to a post. Remember the more the comments, the more does the post get shown above others on your followers news feed. Replying to comments helps you give your fans a one-to-one feeling which is always highly appreciated.
Share interesting articles you find on the Internet
This could be a helpful trick to be used from time to time. Along with all the information you shell out about you or your company, sharing articles that cater to issues going on the world in current times, shows that you are more than just another self centered page. However, this can get tricky at times. Over doing this activity could throw negative light on the fact that either you have run out of original content or you are promoting another organization. Both of these could be harmful for your reputation. So keep check and share significant data.
3 Innovative Facebook Engagement Campaigns
Having said all of the above, let's have a quick look at 3 most popular social media campaigns that went viral on Facebook for obvious reasons.
Serving as major proof to the policy that persistency is the key; this company's Facebook page increased their followers from 4500 in 2013 to 480,000 currently. With over 80 posts per month, they also host fun contents to boost their audience engagement. One of their most talked about campaign was a weekly photo challenge based on the week's theme.
Changing the meaning of the tagline – "Like a girl", "Always" blew up the social pages with its video where it shows a clear transition between thoughts as this phrase is used in different phases of life. The video gained popularity as the campaign touched hearts of the people and induces well-built emotions. With a viewership 60 million views on its YouTube channel, this video got over 200,000 likes and close to 500,000 likes on its Facebook page.
Make A Wish Foundation and Disney Parks together started the #ShareYourEars campaign. They promised to pay $5 for each use of the hashtag along with a picture with Mickey Mouse ears. The company made a great total of $2 million, thanks to the incredible response. This shows how tactfully one can improve social awareness and brand images along with customer discernment.
You could either be doing great in reaching out to people or you might be feeling that you have got it wrong somewhere. In both scenarios, look up how your competitors are trying to communicate with their audiences. A lot can be learnt by observing and using the right tricks at the right time. Nothing you take up in your life never has a fool proof method of stating that yours is the best. Go ahead and keep trying to make a place in the hearts and minds of the ones who diligently choose to appreciate your work.
Author Bio:-
Mary Jones is the co-founder & editor-in-chief at TopMyGrades and focused on Content Marketing Strategy for many clients from Education industry in US, Canada & UK. Mary has been a guest tutor at Expert Assignment Help  and has conducted a series of webinars for Assignment Essay Help. She has intensive content editing experience and, also has worked with MSNBC, NewsCred & Scripted. She has also authored blogs on Lifehack.org, Wn.com, Medium.com, Minds.com and many more digital publications.