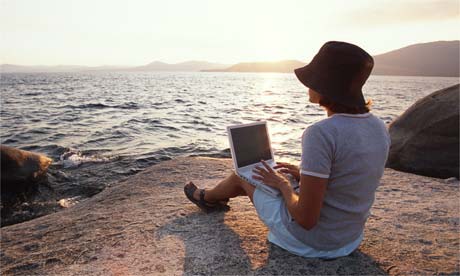 A few decades ago earning money by traveling was fantasies as well as a dream for many traveling enthusiasts but nowadays things have changed; many travelers now receive money for their living through their travel blogs. People are mostly attached 9-5 desk job which is regarded as the primary source of money, and they resent to believe that it is a valid source of money. Basically, travel bloggers are one of the best jobs you can have as you can carry on with your passion for traveling and earn money by sharing your travel experience through your blog.
However travel stories are not the only single source of money, there are various attributes you need to add like affiliate marketing, advertising, content marketing, etc. It is not easy to earn enough amount of money as a travel blogger in the beginning, and you need to work hard so to push off your site from the base level.
But once you start earning, the process gets easier, and then you just need to expand your reign adorned with modern trends.  Although it is your duty to monetize your size in a smart way as it will churn high amount of money for your next travel.
Techniques to Earn Money as a Travel Blogger
Followings points will depict some interesting and valid techniques to help you earn money as a travel blogger so that you can continue with your passion and breakout from the dull office work:
Content marketing makes your way into the online money market, and it serves as the backbone of a travel blog. First, you need to create interesting and valuable content which will engage a lot of people from the community. You have to build a relationship with your viewer by educating and amusing them with new topics.
You should write your post filling them with your personal which will engage readers and make you agreeable to their eye. Content writing marketing not only includes writing contents on blogs but also sharing them on social media like Facebook, Instagram, Twitter which helps to build social media presence.
When you grow popularity in the social media and have thousands of visitors in your travel blog, then you can opt for advertising. Many companies will pay you to post an advertisement on your site, and you can tie up with a company that falls into your niche.
Although there are more in-depth scenarios goes on while advertising for other companies but it won't be hard to understand in the first place. This advertising won't provide a huge amount of money in the beginning, but with time, it will add up a lot of money into your bank account.
Google AdSense is another popular way to make money by showing Google's ads on your website.
Use travel blog for affiliate sale
Using your travel blog for affiliate sale is a great way to add a right amount of money in your bank. If you have the right amount of reputation among your viewers and provide affiliate links in your articles, then you will likely to get good cuts from the affiliate programs.
You can opt for affiliate programs provided by hotels, hiking gears, travel portals, etc. although at the beginning you won't receive much but with time it will increase. You have to provide legit and interesting contents so that your viewers can put faith in your decision.
Publish blogs in different travel magazines
If you have traveled a lot, then you can even lot of money by publishing your blogs in different travel magazines, and from that, you can earn good amount of money. You can even publish your photos in different sites or travel sites that pay a good sum of money for beautiful photos.
You can even tie up with other travel bloggers to organize events which will help you get to focus in the community. If you have made a good amount of audience in the community, many top tier bloggers will offer you enough pay to work with them.
Write e-books or choose travel coaching
As a travel blogger, you should curve your present in such a way so that it won't get for you to reach your future goals. You can do a lot of things like expand your website and making them widely popular throughout the world. You can even write your own e-books or opt for travel coaching, which can easily get you funding for your trip. Many top travel agencies often sponsor popular travel bloggers to travel around the world. So you straighten your goal which helps you to get a stable income source.
Consultation from travel bloggers
Many people seek for travel blogging consultation from travel bloggers like setting up a website, solving any problems with plug-ins, editing articles, etc. Although you won't have to write code for the website, you just need to help in setting up their site. Some travel agencies even hire travel bloggers as part-time bloggers on their site, and in turn, they will provide you good pay.
These are some ingenious ways to earn a decent amount of cash as a travel blogger.