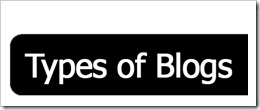 Still Confused between different types of today's blog? I think so… Therefore to clear your doubt, I am going to present a beautiful post on Types of blogs categories just below. Its must to read this post before opening a new blog in Blogger or WordPress etc. Based on the topics that author choose, blogs can be classified as following, So choose what you love to do! Note- I personally recommend everyone to open up an Personal/Corporate Blog etc. Its your wish now…
Types of Blogs:
Personal Blog – It consists of thoughts about your personal life.
Corporate Blog – This is the Official blogs of corporations which holds latest news.
Niche Blog – It deals with only one particular topic or niche.
Forum Blog – two way blogging where readers acts as authors to share their thoughts and discussion area.
Review Blog – Analyzing and writing reviews about various products trending in the market.
Travel Blog – Travel blogs will Passionate travelers share their experiences about various exciting places they visit.
Gourmet Blog – often called as food blogs which deals with preparation of various Recipes etc.
Political Blog – It provides latest updates about the news and strategies of politics
Technology Blog – widely known category of blogs where the latest news & gadgets of technology are shared.
Well as per me, I love to handle personal and Niche blog. Over to you What you choose in 2014! from me, Peace and Blessings. Also Please share and bookmark this post So even newbies can decide their path.
Also Read- What is a Blog and How to Create it?