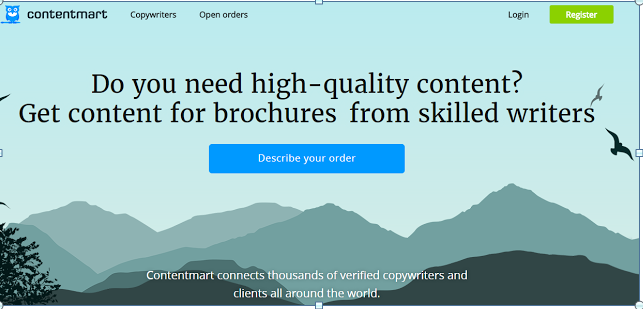 ContentMart is a content marketplace or provide a platform that serves not only for the authors and copywriters but also for those who are looking for the perfect wordsmiths. It provides or offers a platform where a user and writer can interact with each other. This is a review based on ContentMart and its services. In this article, we are going to write about ContentMart & its services, different plans, about its features, e-commerce services, how to register, how to place an order etc. ContentMart is a one-time investment process. 
You will learn something new when you are becoming the member of this site. You will get a
high-quality content
while joining ContentMart. You have to give it a try. ContentMart supports many languages like English, Hindi, Gujrati, Marathi and various other native Indian languages.
What is a ContentMart?
ContentMart is a content marketplace or provide a platform that serves not only for the authors and copywriters but also for those who are looking for the perfect wordsmiths. It was a trustworthy site. More than 11,701 orders placed via all over the world. 46,408 writers and 46,491 clients were attached with ContentMart. You have to pay only for what you like.
It is 100% secure and safe. It also offers a feature of 100% refund process. If you are not satisfied with the content then they will return your whole money back. If the uniqueness of the text is less than 90%, the content will automatically return to the copywriter for revision and checking.
How to SignUp or Register in ContentMart ?
– Visit the official site of ContentMart. Click on Register option.
–  After that a dialog box is open. You have to select the desired option whether it is as a writer or as a client.
– After choosing any one option, you have to fill the form carefully.
– It includes Name, email, phone number, password, state, birthday, country etc.
– You can also signup directly through your Facebook profile.
– Fill the information and click on Register button.
– Once you get approval then you can work as a client or as a writer.
Customer Satisfaction
The main motive of this site is user satisfaction. If you are a member of this site then I am sure you are fully satisfied with its terms and condition and of course privacy policy. It also offers 24*7 customer service. Being a member, if you are facing any hindrance, any problem then you can directly contact to its team. The team hired professional and technical people.
Features of ContentMart
Screening Process
Screening Process is really a tough situation for the writer. While becoming a member or a writer on ContentMart they have to pass the screening test. If you're hiring someone as a writer on ContentMart, you can be sure that they're really go-to at what they do!
Refund Policy
Refund Policy is really the best feature in ContentMart. Being a customer or a client, if you are not happy or satisfied with the content/article and wants to reject the order of the writer then the whole amount will be refunded to your account. The writers need to understand and focus on the quality rather than quantity of the article.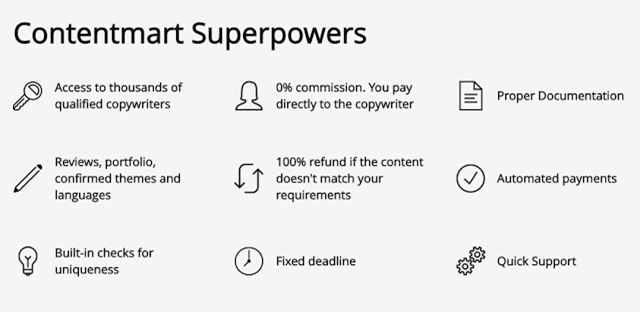 Plagiarism Free Content
If a content or you can say an article has less than 90% unique content, ContentMart won't ever let the content reach you. So don't worry, the article which is reached to you is 100% unique and quality checked. The article which is written by the ContentMart writers is plagiarism free and not copied from any other site. Plus it does not include any grammar mistakes. It should be purely well written.
Fully Supportive Team
If you are choosing the service of ContentMart, then no need to worry about its policy, terms, and condition. If you find any doubt then you can contact directly to its team. The technical and expert advice is always given by the team of ContentMart. If you find any problem while using its services then do not hesitate to contact with the team.
Verdict
In the end, I would only say that ContentMart is a wonderful site. If you want a quality and plagiarism free content then ContentMart is the best place for it. It is available in many languages. It is also the place for writers and offers a platform to find freelance content writing jobs and get paid for their talent. It pays for the best. You can explore your talent as a freelancer writer. ContentMart also presents the system of Safe and secure billing system.
I would recommend you to give a try to ContentMart. So this was the honest review of ContentMart. The website gaining popularity day by day. Please do share this post on social media sites so that more and more people will learn about ContentMart.
All Done…
Incoming search terms:
whatsapp profile pic latest
cute display pictures for whatsapp
Shayari propose
latest whatsapp profile
create relationship