Would you like to be able to save online streaming videos, record desktop actions, or save TV shows on a Windows 10 PC? If you're able to capture videos from your screen you could do all of that and more, and the one thing that you need is a screen recorder that supports Windows 10.
Frankly speaking there are quite a number of options available, but the one screen recorder for Windows 10 that you should seriously consider is Movavi Screen Capture Studio. It is a highly versatile recorder that will allow you to fully control all the recording parameters, and has numerous other features that definitely put it over the top.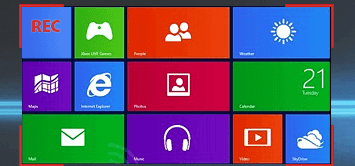 More importantly, it is really easy and straightforward to start recording videos using Movavi Screen Capture Studio due to its intuitive approach and user interface. In fact if you want to get started right now you should just launch the software and click on the 'Record screen' button in the main window to launch the screen recorder itself.
Immediately afterwards you will be able to define the capture area – by clicking and dragging the mouse cursor in order to draw a frame on your screen that indicates the area you wish to record. Once you do that Movavi Screen Capture Studio's recording interface will appear and you can tweak the capture area and adjust the other recording parameters such as the audio source, sound levels, frame rate, and more.
Within Movavi Screen Capture Studio you'll find several other interesting features that may come in handy in certain situations. It can be set up to record keyboard and mouse actions, which can help if you're creating a video guide or tutorial. Additionally you can automate the recording by scheduling a start and stop time, or using a timer to stop it after a certain duration.
Assuming you opt not to automate the recording, you can control it with the on-screen controls and press 'REC' to start and then 'Pause' or 'Stop' it as required. When you do click 'Stop' you can review the footage and choose whether to save it right then or open it in Movavi Screen Capture Studio's editor instead.
Should you opt for the latter, you can then use the features in the editor to improve the video footage and make it look much more polished and professional. Rest assured Movavi Screen Capture Studio has a comprehensive range of features in its editor that will allow you to enhance the quality of your videos, trim out unwanted segments, merge clips together, add captions, include audio tracks, insert animated transitions, and much more.
If you want to create professional-looking videos that stand out, Movavi Screen Capture Studio will give you the tools that you require. If not, you can still benefit from having so many options at your disposal and may want to use the features to perform smaller tweaks, create video compilations, or extract highlights.
Thanks.