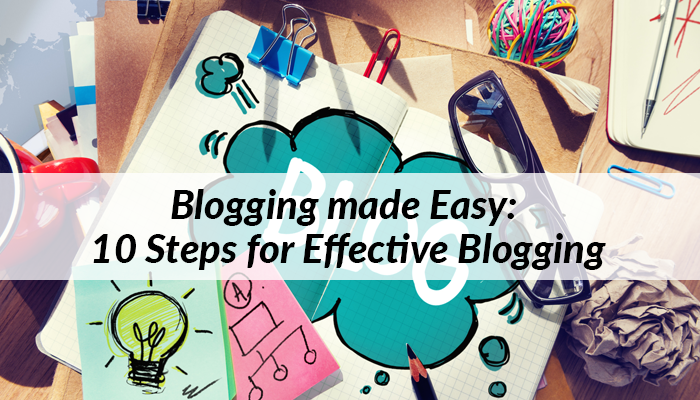 From past around a decade, blogging has commendably gained attention of numerous youngsters. People from various genres are getting attracted towards this field. But the question arises; what makes you an effective blogger? How to get potential visitors to your blog?
Believe me, there isn't any rocket science in it but yes, there are a few points that one needs to keep in mind in order to climb the steps for effective blogging. Let us take a step ahead and have a look at these closely analyzed, 10 steps to effective blogging:
Blogging made Easy: 10 Steps to Effective Blogging
Find your genre: I won't ask you to confine yourself, thoughts or the blog, but knowing the best of self always helps. It could be anything, social, parenting, kids, sports, cooking, technology, etc. The only thing that I want to highlight here is that you need to have a distinct vision for the topic you are writing upon. Readers/visitors will only join you if you have that 'unique touch'.
Keep it alive: Make sure that the blog must always be a two way interaction. Don't just write to 'write'. An effective blog is one which keeps its readers attached and for this you need to make the writing close to them. Ask some questions, write as a reader and answer the questions. The blog must be like a two way conversation.
Be yourself: You aren't the only person with 'this genre' is this vast web world. You aren't the only one talking unique or trying best to keep the gleam, there are others too. The major thing that will keep you above in the list and can further take you to the peak is the originality. Be genuine with blog, perspective and creativity. You can be best only if you are you, because you know self in the way you can't ever know any other thing.
Add some value: With this I mean that add some creativity to your blog. A little blend of information, education, entertainment and inspiration can add great value to your blog. Believe me 'half teaspoon of each' will make the essence of blog mesmerizing.
Keep it simple: Your readers aren't there to test your vocabulary skills. While writing a blog, you need to keep in mind that an effective blog is one which conveys messages clearly. By using tough words, you will just complicate and make things tedious for your readers. It is said that an effective communication is one which conveys messages in the most appropriate manner in the least words. However, I won't ask you to forcibly confine or use words that are easy but would rather recommend keeping things just simple to the extent they are best.
The headline: Headline is a vital part of your blog. You need to have an attractive headline. Keep the fact in mind that it is the headline of your blog, which will bring the readers.
The Body of the Blog-BOB: Once you are set by the headline, and the task brought in your potential readers, the 'BOB' plays its part. A perfect blog includes subtitles, captions, points, etc. With these you can keep the readers attached to your content. Keep in mind, no one, likes reading the entire 'March of words'. Points, bullets make it better.
Multimedia: Add some images and videos to your blog. I don't mean the random ones, but those which match with the subject and content of your blog. Be it a kid or an adult 'media representation' not only attracts but also makes it easy for them to understand. So remember little pictures and videos won't harm you.
Don't Muddle: You aren't writing a fairy tale or any novel. A blog is a BLOG, keep it to the point. Your attempts to engage the readers must not invite senseless conversation and irrelevant topics in the post.
Interlink your posts: The last in our list will help you keep the reader for longer duration. By interlinking your blogs you can take a reader of your other posts and thus convey all what you want to in the best possible way. But keep in mind that interlinks must be relevant not anything 'out of the blues'.
About the Author:
Vaishnavi Agrawal loves pursuing excellence through writing and have a passion for technology. She has successfully managed and run personal technology magazines and websites. She currently writes for Intellipaat, a global training company that provides e-learning and professional certification training.
The courses offered by Intellipaat address the unique needs of working professionals. She is based out of Bangalore and has an experience of 5 years in the field of content writing and blogging. Her work has been published on various sites related to Hadoop, Big DataTraining, Business Intelligence, Cloud Computing, IT, SAP, Project Management and more.