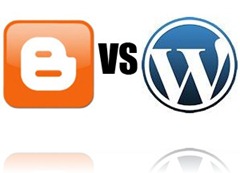 If you are still confused with Blogger and WordPress then today I must clear this doubt. Blogger is a free blogging platform by Google and WordPress is a blogging software which can be installed on any web hosting site to start blogging. Both are platforms are awesome and has some prons and cons. So below is the comparison chart between them (WordPress Vs. Blogger) and lets see who is the winner in each case. Note- I am not an employee of either Blogger or WordPress. The below chart is entirely my personal research and collection. Have fun!
Blogger Vs. WordPress- Comparison Chart 2014:
| | | | |
| --- | --- | --- | --- |
| Features | Blogger | WordPress | Winner |
| 1. Web Hosting | Free | Paid | Blogger |
| 2. Template Customization | Offers Free Layout/Style Sheet Customization | No style sheet customization | Blogger |
| 3. Easy to understand | Improved Dashboard (user friendly) | Hard to navigate | Blogger |
| 4. Import/Export | Only from Blogger blog to another | Blogger blog,Typad, Joomla etc.. can be imported into WordPress | WordPress |
| 5. Video upload | Up to 16 GB unlimited | Up to 3 GB. More on payment | Blogger |
| 6. Mobile site | Free to install | Paid | Blogger |
| 7. Coding | HTML,CSS,JavaScript used | All languages supported including PHP also | WordPress |
| 8. SEO | Individual Post Meta Tags are missing | Meta Tags plugins used in each posts. Highly optimized | WordPress |
| 9. Comment Moderation | No Spam protection | Comments can be edited and moderated. Spam protection available | WordPress |
| 10. Blog Privacy | You can restrict access to 100 invited Google account holders | Unlimited accounts | WordPress |
| 11. File Type Storage | Only Images can be uploaded | Allows upload of files like .ppt, pdf .doc and .odt files. | WordPress |
| 12. Post by Emails | Yes | Yes | Both |
| 13. Default Templates | less | More than 70+ | WordPress |
| 14. Template Replacement | Yes, you can change your template to professional one for free | No change allowed | Blogger |
| 15. Tutorials/Help | Huge collection of it in Google search engine | Hardly some | Blogger |
| 16. Image Storage | 1 GB with Picasa | 3 GB and more | WordPress |
| 17. Languages | Only 50 | 120+ Languages supported | WordPress |
| 18. Visitor Stats | Built in Visitor Stats | Additional plugins required to add to track count of visitors | Blogger |
| 19. Team Blogs | Administrators and non- Administrators | Administrators, Editors, Authors and Contributors | WordPress |
| 20. Categories | Labels (tags) | Categories and tags | WordPress |
Who Wins?
Well This question answer lies without you. WordPress no doubts a great blogging platform and highly SEO friendly but it needs some investment like Money. On the other hand Blogger is owned by Google and its a fact that we cant underestimate Google displays its Blogspot above in SERP's. So its my request to you to choose your platform wisely from the above chart and get go. Note- Both platforms are the best in the world.
My Personal Advice
If you are a newbie kid and want to start blogging I suggest you to use Blogger and once your blog becomes popular migrate it to WordPress for more better results. And if you are an old Blogger and knows everything about blogging so its must for you to adopt WordPress now and have a great happy career!
That's it!