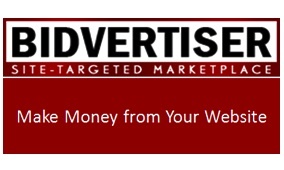 Today I am going to file an amazing post which is based on Bidvertiser. In this article, I am going to give a detailed review on Bidvertiser so that you can know about the network and can decide why you should join it? Well Bidvertiser is an Pay per click advertising – online advertising directly on sites of your choice, internet marketing solution for online advertisers and Publishers gets money for clicks and conversion. In this, a Publisher can also modify the ads according to his/her wish. You can manipulate the Text color, Background color and other attributes of ads. The highest bidding ads are to be displayed on your website or blog, only if you are using its services. You can also earn extra bucks for conversion. Bidvertiser has a lower minimum payout and many more.
What is BidVertiser?
This review is all about Bidvertiser. As we know Bidvertiser is a network which is started in 2003, along with the launch of Adsense. It was launched by Bpath. It is Pay Per Click (PPC) company and provide the best opportunity to various bloggers and newbie.
It is an old advertising network provide to many bloggers. Bidvertiser provides the best platform to the site owners, even they pay $20 for just registering as a publisher or as an advertiser. It is one of the oldest PPC networks.
You can make huge money with the help of Bidvertisers. There is 2 types of tools are available via you can make money. One type is conversion and the second one is buying a product. As you know that Conversion can be filling up of a form, signing up to a website, buying a product etc. So there is always a possibility of the dual chance to make money: – one from clicks and the second one is from conversions.
How Bidvertiser Works?
— First of all, Advertisers set the Bids for their multiple Ads to be displayed in sites or blogs.
— BidVertiser checks the Publisher's website or blog category.
— After that, it displays the highest bidders on his/her site or blog.
— When visitors and readers click on the ads, then publishers earn money.
— Different types of ads format and payment methods are available.
— Publishers earn extra revenue if a click turns into conversion.
— There is always a constant improvement in bidding.
— Many Publishers will get paid at the end of every month.
Types Of Ads: Review!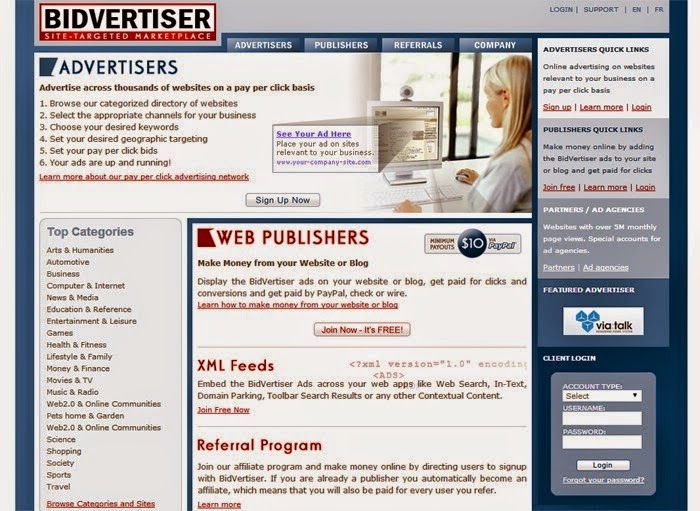 As we know that, BidVertiser supports three types of ads format: Banners Ads, Buttons Ads, Inline Ads, Skyscrapers and Free Design. There are different types of ads which are elaborate below.
Slider Ads
As the name suggest, it is a sliding ad which appears from bottom to top side. It can increase your site and blog revenue. You can adjust it on your blog and website. The ad will appear with a close button on the above side of the ad.
Banner ads
After that, the next one is banner ads. It is included in the banner ad format. It contains a format in which links as well as image and picture ads are displayed. There are almost all major banner sizes are available.
Pop Under Ads
At the third number, there is a pop under ads which are opened behind the active browser window. These ads will be shown only once a day. It also can increase you revenue, but not suited for professional websites.
Mobile Ads
Mobile ads are displayed on the screen of mobile. It is flexible. It provides 300*50 mobile banner ad format.The advertisement is displayed if your website or blog is browsed using mobile browsers. You can easily check the ads available on the mobile screen.
XML Feeds
XML feeds are used to displays ads across your web apps like Web Search results, In-Text, Domain Parking, search box results, Toolbar search results or any other Contextual content. It includes a PHP code language to start up.
Payment Option
Yes, it is a fastest growing network, and you will easily get approved by Bidvertiser. Bidvertiser is the oldest network and every blog or website easily get approved by it, unless your site will not contain spam and wrong content. It is also a very good Adsense alternative. The minimum amount to get payment by bidvertiser is $10 and 100$ through cheque. There are different ways to get payment through bidvertiser are Paypal, Check, Wire too.
Bidvertiser For Publishers
It is an easy method to turn the clicks into cash. You have to join the bidvertiser once and you will enjoy its features. Bidvertiser will display the ads on your blog or website. It always displays the highest bidders to maximize your revenue via that you make extra cash through bidvertiser.
You can make more money through conversion. It is your goal to earn huge income through cash. The minimum payout is $10. Both the visitors and advertisers will be exposed to the opportunity of bidding. It will also provide the detailed performance of your sites like a number of page impressions, clicks, click-through rate, and the total amount.
You will get easily approved by Bidvertiser but if your site is based on spam content and involved with any wrong issue than I am sorry, you will not get Bidvertiser.
BidVertiser does NOT accept those websites or blog who are based on:
– Adult based content
– Illegal drugs based content
– Sexual based content
– Hate graphics content
– Excessive profanity
Conclusion
In the end, I would only say that Bidvertiser is one of the oldest and best network tools, which you should really try. Bidvertiser is one of the best AdSense alternatives and you will easily get approved for your blog and site. You will easily convert your advertising into cash. Check this review, I hope you like it. It is free of cost. Just sign up via filling the form, and enjoy its features plus earn more and more cash. If you are still not using Bidvertiser then what are you waiting for, then start using it, to make money from advertising networks.
Also SEE- AdBrite Vs. Bidvertiser Vs. Chitika- Comparison Chart 2014
That's all!!
Pay per click advertising - online advertising directly on sites of your choice, internet marketing solution for online advertisers. Webmasters make money online.
Free to Join

editor rating
Incoming search terms: