After an Long Long time and Managing some Time, Today I am going to Post on the Best Tools to Create your Free Infographic Online. As you all knows, Infographic is a visual representation of information or data, e.g. as a chart or diagram. Now a days its very popular among Bloggers, Internet Marketers and Webmasters etc. Sometimes Content is too much boring to read So that's why Infographic comes into play to fix that issue with tons of Visual graphics and Images. The Tools/Websites today I am going to mention is totally awesome by which you can choose Over 500 Templates, Icons, and Graphics and create beautiful infographics in less than 10 minutes etc. Thus the final infographic design is usually put together in a vector graphics program. So lets look what are the Top tools to create free and awesome looking beautiful Infographics designs at below.
Also SEE- High PR Infographic Submission Sites List – Blogging Ways
Best Websites to Create your Free Infographic Online
This is one of the favorites in creating free infographic. Now Make information beautiful. Create, share and dazzle with beautiful infographics. Simple and intuitive, it is built for the non-designer. They have categorized icons, resizable canvas, design-driven charts, and interactive maps to utilize. In short, all the necessary tools in one place.
The web-based app offers everything from a single source and creates Prof. infographics, interactive presentations, banners, charts, and graphs etc. Now with Visme, one could easily edit the place-holder text, insert your own text, and publish your infographic within minutes. It has more than over 200,000 presenters.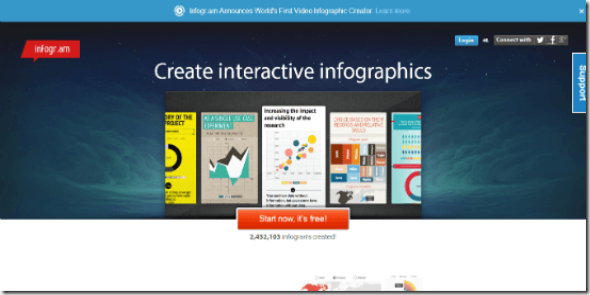 Infogr.am is an Great online tool for creating various impressive interactive charts and graphs. One can choose from six free templates and create pie charts, column, curves and matrix diagrams very easily. At this, you can also import your own XLS, XLXS and CSV files. Infogr.am also had various paid Subscriptions to use on.
Well Vizualize is the perfect infographic generator for your website. Now powering more than over 500,000 infographics created, Vizualize.me is the #1 infographics maker for resumes. So Upload your own infographics and discover what's hot among users and staff.
If you're just looking to design an infographic, this program will suits you best. It has Very basic design layouts and assets. New charts feature allows some basic editable charts in your design. Apart from that, Easel provides Easy downloads for JPG and PDF versions also. So why not give it a try!
Note- Well Infographics are an effective way to drive traffic to your websites as well.
Conclusion:
I hope you all will like my above listed Infographics and start designing your own personalized Infographic that can be used as an Traffic source, Creditability to your site and making relationship with other fellow bloggers by sending them that etc. So Which design sites have you tried? Which tools are your favorites? Post in the comments section below. Also please share and bookmark this article at Facebook as well.